Algeria's Bouteflika Standing Aside Might Not End Protests
(Bloomberg) -- Algerians took to the streets in protest, channeling their ire at the ruling elite in a clear message that President Abdelaziz Bouteflika's pledge to not seek a fifth term was too little, too late.
Thousands gathered in the capital and several other cities, barely 12 hours after the 82-year-old leader appeared to bow to over two weeks of pressure to withdraw from the April 18 elections.
In a late night announcement on Monday, the ailing leader said the ballot would be postponed, a new constitution drafted by the year's-end and his last act in office would be to shepherd the country's transition to the next level.
The fifth term "was never on the table, as far as I'm concerned," he said.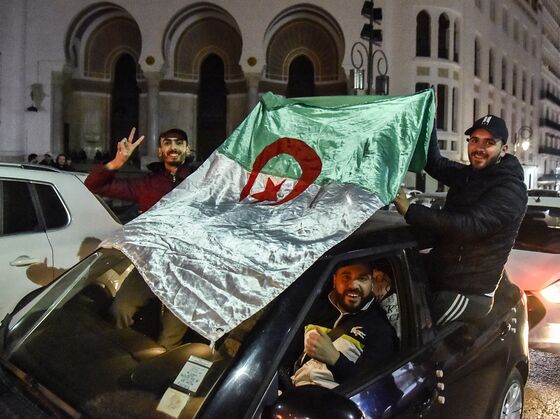 But what appeared to be concessions were quickly interpreted by protesters as a disingenuous end run around real reform by the ruling elite -- a tactic used by other Arab leaders in the waning days of the 2011 Arab Spring uprisings. Algeria was able to avoid that unrest at the time, thanks, in part, to a generous subsidy system funded by petrodollars.
One banner summed it up: "Leave means leave."
The language was the same as that used in Egypt before President Hosni Mubarak was toppled. But in a significant grammatical difference, the word "leave" was in its plural form in Arabic -- directed at the old guard or, "le pouvoir," as it's known in the OPEC nation, versus specifically at Bouteflika.
"If this is a stalling tactic by the Bouteflika clan, it is bound to backfire. Protesters rejected le pouvoir's first concession, and will continue to press the ruling elite for their demands," said Anthony Skinner, Director of Middle East and North Africa at Verisk Maplecroft. "A clear timeline needs to be put in place and stuck to."
Bouteflika, who was elected in 1999 and is credited with bringing stability to the North African nation after it emerged from a ruinous civil war that decade, promised a new constitution would be drafted by the end of the year. The process would be spearheaded by a national council and put to the people. That body would also set a date for the vote.
What he failed to mention were the key words many wanted to hear: That he would step down at the end of his term in April and allow for a transitional administration to chart the course forward.
Arab satellite channels reported that veteran Algerian diplomat and former U.N. envoy Lakhdar Brahimi would head the council, which would also include protest figures.
"We said no to a fifth term. He said, OK baby, we'll stay together under the fourth," Algerian satirical site El Manchar quipped on Twitter.
Further stoking unrest was his choice of Interior Minister Noureddine Bedoui to lead a transitional government as the new premier. Ramtane Lamamra, a strong supporter of Bouteflika's fifth term, took the newly created post of deputy premier.
"The regime is obviously trying to regain control of the situation by appeasing protesters without relinquishing power," said Riccardo Fabiani, senior analyst on geopolitics for Energy Aspects. But "protesters have been emboldened by the great success of the past weeks and they're unlikely to be satisfied with just this concession."
The building tensions are dangerous for Algeria, an oil and gas-rich nation that serves as a bulwark against against Islamist militancy and migration to Europe from other parts of the continent.
For decades, the government and the ruling National Liberation Front party, had ruled with little resistance as oil wealth enabled a generous subsidy system. But the decline in oil prices in 2014 battered the country's main source of foreign currency, more than halving reserves and making it difficult to provide jobs for the youth majority population.
That cash shortfall meant that the budget deficit ballooned to over 15 percent of GDP after oil's plunge in 2014 -- a level that authorities have only recently been able to reel in. The 2019 budget sees the deficit at 10.4 percent, with oil at $50 per barrel.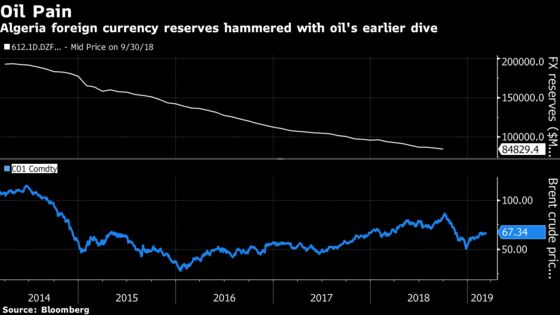 It was those kind of indicators that opened the floodgates on Feb. 22, when it became clear that Bouteflika, largely incapacitated by a 2013 stroke, was determined to seek a new term. His announcement on Monday smacked of basically rewording his earlier promise to serve an abridged term and to amend the constitution.
"This is a new ploy to trick the people. It seems the authorities have not understood the message of the street protests," Zubida Assoul, leader of the small opposition Union for Change and Progress, told Echorouk TV. "They said: Go."