Senators Expect a Vote on Using Covid Funds for Infrastructure
(Bloomberg) -- The Senate is expected to vote Thursday on adding a provision to the $550 billion infrastructure bill that would let states use some leftover pandemic-relief funds for their own projects, a move that would free up as much as $100 billion, a chief sponsor of the amendment said.
States would be able spend up to 30% of unused funds from earlier rounds of Covid aid on infrastructure projects, Texas Republican Senator John Cornyn said.
"This is money that would be immediately accessible to governors, to mayors, to the county leadership, for infrastructure projects," he said.
Cornyn and California Democratic Senator Alejandro Padilla negotiated with the White House to get the amendment included in the broader infrastructure bill, which is backed by President Joe Biden and is headed for a Senate vote as soon as Saturday.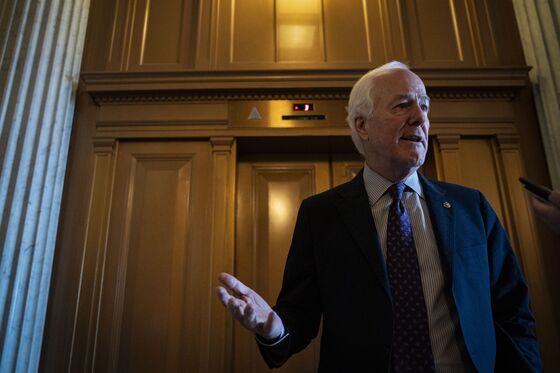 The Senate has been plowing through proposed amendments to the infrastructure legislation, but the vast bipartisan bill has emerged largely intact.
In addition to the proposal from Cornyn and Padilla, the Senate may also consider changes to a provision requiring reporting of cryptocurrency transactions. That amendment, filed by Senate Finance Committee Chairman Ron Wyden and Republican Senators Pat Toomey and Cynthia Lummis, offers a more targeted approach to requiring cryptocurrency exchanges and other virtual currency entities to report information to the Internal Revenue Service.
Both would need 60 votes in the 50-50 Senate to be added.
The infrastructure bill was negotiated over many weeks between the White House and a bipartisan group of senators led by Republican Rob Portman of Ohio and Kyrsten Sinema, an Arizona Democrat.
The legislation includes:
About $110 billion in new spending for roads and bridges
$73 billion for electric grid upgrades
$66 billion for rail and Amtrak
$65 billion for broadband expansion
$55 billion for clean drinking water
$39 billion for transit
With the week nearly over, members of both parties expect Majority Leader Chuck Schumer to take a key procedural step on Thursday that would set up weekend votes to finish work on the package.
Once the Senate completes work on the infrastructure bill, Schumer has said the chamber would immediately turn to a budget resolution setting up a fast-track procedure known as reconciliation that could allow Democrats to pass the bulk of Biden's economic agenda without facing a filibuster by Republicans.
A planned $3.5 trillion package would address policy areas including climate change, immigration, taxes, health care and child care, and it faces significant hurdles in both the Senate and House. House Speaker Nancy Pelosi has said her chamber wouldn't take up the infrastructure legislation until the budget package is settled.
The budget resolution may determine whether Democrats and Republicans in the chamber are headed for a showdown over the federal government's debt limit. Senate Minority Leader Mitch McConnell on Thursday issued his strongest warning that Democrats should include the debt ceiling in their budget package because Senate Republicans won't support it in a short-term bill to fund the government that Congress will need to pass by Sept. 30.
"If they don't need or want our input, they won't get our help with the debt limit increase that these reckless plans will require," McConnell said. "I could not be more clear."
But some moderate Democrats are wary of the political hazard of voting to allow the federal debt to grow if it isn't part of a bipartisan package to fund the government.
No. 2 Senate Democrat Dick Durbin said it was possible the Democrats could act on their own, but "I don't think a decision has been made."