Boohoo Loses Half Its Market Value as Labor Abuse Worries Mount
(Bloomberg) -- Boohoo Group Plc promised an independent review of its supply chain after concern over the exploitation of labor cut the U.K. online fashion retailer's market value in half in three days.
Boohoo said Wednesday that it cut ties with two suppliers that infringed its code of conduct in an effort to eliminate labor abuses in Leicester, England, one of its biggest sourcing hubs for fast-fashion seller's 6-pound miniskirts. That only heightened investor concerns, and the stock fell as much as 24% Wednesday, reducing the company's value to 2.7 billion pounds ($3.4 billion).
After the Covid-19 pandemic boosted online retail worldwide, Boohoo is falling back to earth on concern the company could face a formal investigation under Britain's Modern Slavery Act. Amazon.com Inc. and German e-commerce outlet Zalando SE have temporarily suspended the sale of Boohoo products following media reports alleging that suppliers were paying less than minimum wage and putting employees' health at risk.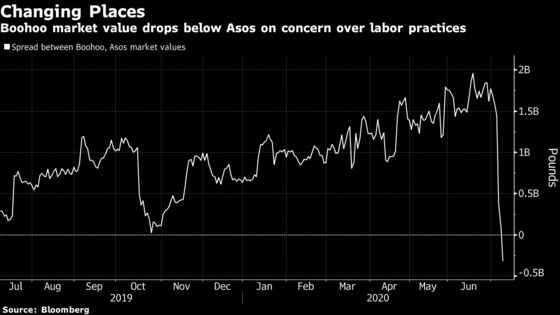 The U.K.'s National Crime Agency said on Monday that it had visited a number of business premises in the Leicester, England, area "to assess concerns of modern slavery and human trafficking." The agency didn't identify the companies involved in the city, which recently has had a flareup of coronavirus cases.
Boohoo said it hired Alison Levitt, a lawyer and former U.K. public prosecutor, to lead the independent review, along with Bureau Veritas, a compliance specialist. The retailer pledged to cooperate with any Home Secretary investigations in an effort to eliminate labor abuses in Leicester.
"The genie is already out of the bottle, and the company will need to be more transparent on sustainability and sourcing issues," said Greg Lawless, a retail analyst at Shore Capital. He said Boohoo may face higher input costs as improving its sourcing could pressure it to raise prices and become less competitive.
Boohoo is earmarking 10 million pounds to eradicate supply chain malpractices, according to a statement Wednesday.
Last year, Boohoo hired Verisio, an ethical audit specialist, to monitor contractors. Since 2016, the company has been carrying out regular unscheduled inspections among suppliers in Leicester.
Boohoo is renowned for offering fast fashion where items inspired from the catwalks can be produced within a few weeks and sold on its website. It typically makes relatively small quantities of a wide range of garments so it can offer significant choice for consumers. This encourages repeat purchases as consumers come back to see what new designs are available.
Unlike most clothing retailers, Boohoo sells exclusively through e-commerce and doesn't run stores. The company is also unusual in that it sources 40% of its garments from the U.K. rather than from overseas in order to process faster orders.
Boohoo can have as many as 500 lines on its website at any time. Its products are also cheap compared with rivals -- sometimes it has items selling for 5 pounds or less. An environmental audit committee of British Members of Parliament in 2018 said it was concerned that fast fashion and the demand for quick turnarounds of new styles were fueling poor working conditions in British factories.
Working with a network of more than 100 factories in England, Boohoo can easily increase productions of popular lines at its brands PrettyLittleThing and Nasty Gal. Monitors at Boohoo's headquarters are updated at least every 15 minutes to show which items are selling best so buyers can reorder them.