Bonds Rally in India After RBI Announces Emergency Rate Cut
(Bloomberg) -- Sovereign bonds in India rallied after the central bank cut its benchmark policy rate in an emergency session as the economy reeled from the coronavirus outbreak.
The yield on the most-traded 2029 bonds dropped seven basis points to 5.96% at the close after falling more than 15 points intraday, while that on the new 10-year notes slid three basis points. The rupee weakened and stocks reversed gains to halt a three-day rally ahead of a long weekend.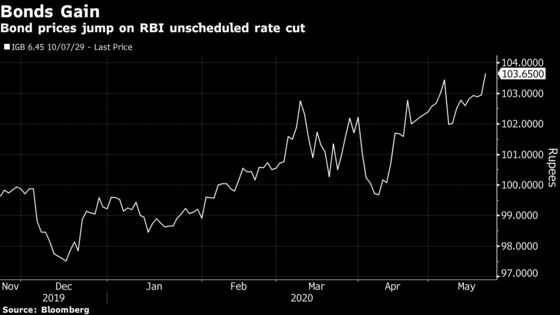 The Reserve Bank of India slashed the benchmark repurchase rate by 40 basis points, offering more support for an economy headed for its first full-year contraction in more than four decades. Bond traders have been calling for more support with concern mounting over a surge in government borrowings.
Average yields on top-rated rupee-denominated corporate bonds maturing in 10 years fell 15-20 basis points on Friday, according to traders. The decline would be the most since May 8, according to data compiled by Bloomberg.
"The RBI cuts may not overwhelm the market and the rally may not last beyond a few days as the market was expecting a 50 basis point cut," said Naveen Singh, head of fixed-income trading at ICICI Securities Primary Dealership. The market needs to see a bond purchase calender given the huge supply of debt, he said.
The rupee fell 0.5% to 75.9650 per dollar and the S&P BSE Sensex index slid 0.9%, set for the second straight week of declines. A gauge of lenders declined 2.6% to the lowest level in more than a month.
The central bank painted a bearish view of the economy, saying it expects Asia's third-biggest economy to contract in the fiscal year through March 2021 as the impact of the coronavirus and measures taken to contain the pandemic wiped out consumption -- the backbone of the economy.
"The RBI's worries around economic growth are dragging the equities down," said Sameer Kalra, an investment strategist at Mumbai-based Target Investing. "Rate cuts don't matter as much as nobody wants to take or give loans as confidence is lacking."
Here are other views of stocks and fixed-income analysts:
DBS Bank: (Radhika Rao, economist at DBS Bank in Singapore)
"Relief for the bond markets front was absent and until a formal announcement is made, we expect intermittent securities' purchase as part of liquidity operations to continue"

Key priorities will be to lower credit risks, channelize funds to credit-starved sectors and prioritize financial sector health, which will also involve the government's participation
Sundaram Asset Management: (Dwijendra Srivastava, CIO for debt)
"Today's rate cut will just act as a sentiment booster. It isn't going to help the smaller borrowers in a big way as lenders continue to be risk averse. Authorities need to ensure that banks start taking credit calls and lend to lower rated corporate issuers.
"Investors are inclined to buy only highly-rated company debt as there are worries about delinquencies rising due to the sharp slowdown of the economy."
HDFC Securities: (Deepak Jasani, head of retail research)
"The governor's comments about the economic situation deteriorating more than expected is weighing on sentiment. Investors are also concerned about how we are running out of stimulus after both the government and the central bank have done their part
"With most of the country still under lockdown these steps may not have a direct benefit"
Serenity Macro Partners: (Manish Wadhawan, founder and former head of rates trading at HSBC India)
The carry trade on Indian bonds has turned lucrative after RBI's rate cut, with repo rate at 4% and 2029 bond yielding nearly 6%

With limited fiscal space, RBI will have to do the heavy-lifting