Bonds of Russia's VEB Slump as U.S. Sanctions Threat Takes Hold
(Bloomberg) -- Russia's state development bank became the latest victim of the sanctions risk hanging over markets as the U.S. mulls deeper penalties for alleged elections meddling.
Dollar bonds of Vnesheconombank, known as VEB, plunged, pushing the yield on notes maturing in 2020 more than 600 basis points higher than the Russian sovereign, the widest since 2015. The bonds clawed back some gains on Tuesday after three days of losses. Analysts at VTB Capital in Moscow said the sudden sell-off suggests that select investors have been "considerably trimming their positions."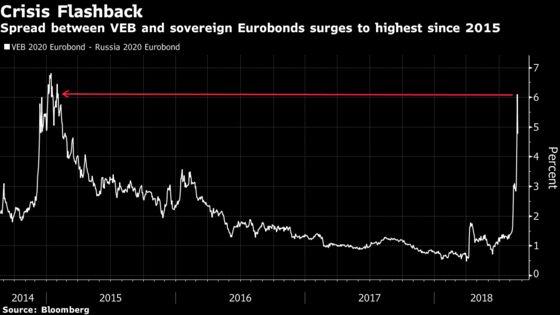 Jittery market moves have become the norm in Russia this month as investors await the results of U.S. deliberations about how to deepen sanctions. Competing bills submitted to Congress envisage crippling penalties on the country's largest lenders. One was published earlier this month by Republican Senator Lindsey Graham and Democrat Bob Menendez, and proposes fresh restrictions immediately, while another would only come into effect if Russia is found to have interfered in future elections.
"The sell-off in VEB seems a delayed reaction to risks of sanctions, which has double resonance given that the issuer doesn't have a strong domestic depositor base to fall back on," said Koon Chow, a strategist at Union Bancaire Privee in London. "It seems strange though that the reaction has only recently happened given that the prospects of banking-sector sanctions emerged weeks ago."
The lender, which once helped power President Vladimir Putin's Kremlin-directed capitalism, is still emerging from a bailout after U.S. sanctions in 2014 blocked it from issuing new debt abroad.
Cut off from international markets, VEB's new chief Igor Shuvalov is seeking 1 trillion rubles ($15 billion) from the state to finance infrastructure projects, two people familiar with the plans said last month, speaking on condition of anonymity to discuss private deliberations.
The Graham/Menendez bill calls to "prohibit all transactions in all property and interests in property of one or more of the Russian financial institutions." Vnesheconombank is inexplicably listed twice, alongside Sberbank, VTB Bank, Gazprombank, Promsvyazbank and Rosselkhozbank.
Another bipartisan bill, submitted by Senators Chris Van Hollen and Marco Rubio, proposes blocking the assets and restricting accounts of the big state-owned lenders, including VEB. Senate Foreign Relations Chairman Bob Corker of Tennessee joked to reporters Thursday that the original bill risked doing more damage to Russia than a "tactical nuclear weapon" and said he expected changes to ensure a strong bill emerges.
The Foreign Relations and Banking committees were holding simultaneous hearings on Russia and sanctions on Tuesday, and Corker said a bill could emerge by the end of the September.
Yields on the bonds of other state banks also jumped this week, but none of them sold off as much as VEB.
"Eurobonds of Russian banks remain under pressure due to concern they may be hit with new sanctions," Evgeny Sergeev, an analyst at UralSib in Moscow, said in a research note. "That will continue until it becomes clear whether or not that clause will be kept in the sanctions bill."