There Were 438,000 New Indexes Created Over the Last Year
(Bloomberg) -- It's been a bumper year for passive investing, judging by the increase in indexes.
Benchmarking giants like S&P Global Inc., MSCI Inc. and the London Stock Exchange Group Plc's FTSE Russell created 438,000 new indexes over the 12 months through June 30, according to a study from the Index Industry Association. Gauges tracking bonds and companies that address environmental, social and governance issues helped fuel the rise.
There are now more than 3.7 million benchmarks globally, the survey showed. That dwarfs the roughly 50,000 stocks that trade on exchanges around the world.
Index providers generate billions in fees by licensing their benchmarks to providers of passive investment vehicles like exchange-traded funds. S&P, MSCI and FTSE together took in more than $2 billion in revenue last year despite issuers taking fees on many indexed funds down toward zero. Licensing more benchmarks, which typically is an asset-based payment, helps offset the lower charges.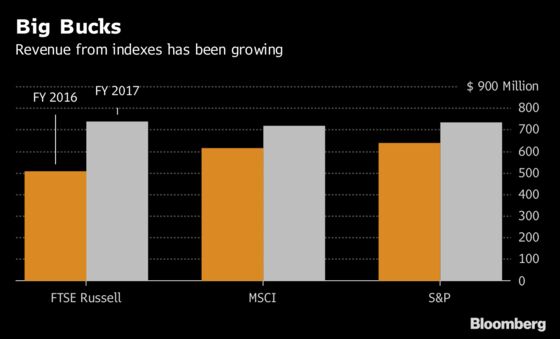 "We are seeing a strong investment in research and development by index providers into building out their fixed-income capabilities," Rick Redding, IIA's chief executive, said in a statement accompanying the study. "Equity indexes remained rather consistent across most categories. However, the growth and innovation in ESG, factor and smart-beta indexes over the past year has been impressive."
Factor-based and smart-beta gauges track stocks with characteristics like momentum or low volatility, and often use these features, rather than market capitalization, to determine how much of these companies to include in a measure.
Fixed-income indexes now make up about 16 percent of all benchmarks, according to the IIA's release, up from 2017, when more than 95 percent focused on equities. Sovereign debt has the most gauges, followed closely by corporate bonds, the study shows.
Indexes focused on environmental, social and governance concerns jumped 60 percent from a year earlier, the IIA said. Equity benchmarks, however, slipped 3 percent as the number of sector indexes fell.
The IIA estimates that the data from its 14 member firms covers about 98 percent of indexes globally. An indexing business owned by Bloomberg LP, the parent of Bloomberg News, is a member.