Bond Traders on Rocky Path Prepare to Face Auctions
(Bloomberg) -- No one would choose to sell bonds under these conditions -- which may make for a rocky holiday-shortened week in the U.S. Treasury market.
In order to complete the monthly cycle of two-, five- and seven-year notes before Thursday's holiday, the Treasury Department is cramming them into Monday and Tuesday, which hasn't gone well in the past. Making matters worse is the risk of a Federal Reserve chair nomination announcement the White House has promised by Thanksgiving, in addition to the dozen economic releases on Wednesday.
Meanwhile, Treasuries remained under pressure Monday as U.S. stock futures extended gains and gilt yields climbed. 
The extraordinary volatility in short-term yields in particular over the past month got a second wind Friday amid the threat of European pandemic lockdowns. The two-year note's yield at one point on Friday sank as much as 5.8 basis points as government bond markets globally priced in the possibility of another economic slowdown that could stave off central bank rate increases. U.S. traders dialed back Fed rate-hike expectations, with lift-off pushed out to September from July next year and two hikes still priced in by the end of 2022. 
The moves were subsequently unwound after comments from Fed officials Richard Clarida and Christopher Waller around the potential for faster asset-purchase tapering. Still, two-year yields have had nine daily changes exceeding three basis points since Oct. 15, compared with only five this year up to that point. The wild price action unfolded -- pushing the ICE BofA MOVE Index of expected volatility to the highest level since March 2020 -- as consumer price inflation surged to levels that called into question the central bank's tentative plan to taper its asset purchases through mid-2022 and turn to raising interest rates no sooner than that.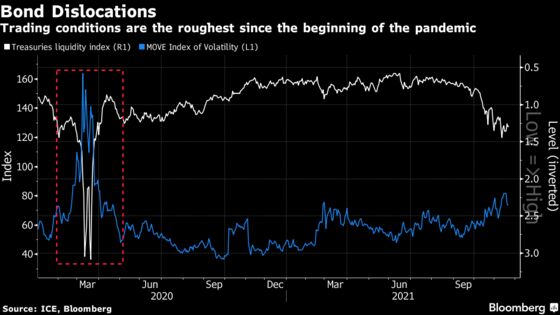 Diminished liquidity alongside still heightened volatility and uncertainty around the policy path could certainly impact the reception of upcoming Treasury auctions, even with the market set to absorb less nominal supply following supply cuts, said Credit Suisse strategist Jonathan Cohn. "What will be especially worth watching, outside of how the auctions go, is how the market digests it through the holiday and month-end." 
Since 2012, when the Treasury auction cycle has coincided with Thanksgiving week, the seven-year sector averaged about six basis points of cheapening during the first week of December, Cohn said. In the other years, it averaged a 4 basis point rally.
At the same time, market participants are waiting for U.S. President Joe Biden to announce his pick for Fed Chair. A decision to nominate Lael Brainard instead of Jerome Powell for a second term could swiftly reprice U.S. short-term rates -- upending auction calculations even if the shock wears off relatively quickly.
"The markets will have some type of immediate knee-jerk reaction to the chair pick, but once that settles there won't be a huge shift in the outlook for the next couple quarters," said Victoria Fernandez, chief market strategist Crossmark Global Investments.
Further complicating matters, the quarterly process of swapping expiring Treasury futures for new ones is set to ramp up over the coming week, and the erosion of liquidity in the cash market has made the two-year "calendar roll" particularly risky. 
Economic calendar:

Nov. 22: Chicago Fed national activity index; existing home sales
Nov. 23: Markit U.S. manufacturing and services PMIs; Richmond Fed manufacturing index
Nov. 24: MBA mortgage applications; jobless claims; wholesale inventories; trade balance; second read of 3Q GDP; durable goods orders; personal income and spending (with PCE deflator); University of Michigan consumer sentiment revision; new home sales

Fed calendar:

Nov. 24: Federal Open Market Committee minutes

Auction calendar:

Nov. 22: 3-, 6-month bills; 2- and 5-year notes
Nov. 23: 35-day cash management bill; 2-year floating-rate note; 7-year note
Nov. 24: 119-day CMB; 4-, 8-week bills