Bond Traders Look for Respite as Bill Supply Poised to Dwindle
(Bloomberg) -- This year's relentless climb in short-end U.S. rates may be about to take a break as the Treasury dials back bill auctions for a change. But any dip in rates may prove short-lived with another Federal Reserve hike looking imminent.
The Treasury will sell a combined $145 billion of bills Tuesday when the market reopens after the Labor Day holiday. The total is down $16 billion from last week, for the first across-the-board cut in bill supply since April. Bill rates have climbed steadily this year, pushing three-, six- and 12-month yields above 2 percent for the first time in a decade.
The dropoff in supply probably won't last long. Traders anticipate increased issuance across the curve to finance the nation's ballooning budget deficit and offset the Federal Reserve's balance-sheet unwind. What's more, Friday's release of the latest labor-market data may solidify expectations for a quarter-point Fed rate hike this month: Job growth likely accelerated in August, analysts predict.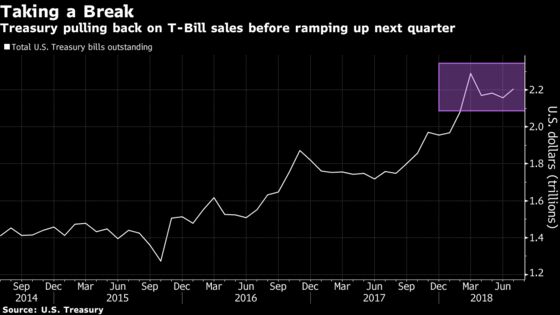 "This is the breather," said Thomas Simons, a money-market economist at Jefferies LLC. "Treasury is going to have to build up supply quite a bit beginning in October."
The Treasury will issue $55 billion of four-week bills, $48 billion of three-month obligations and $42 billion of securities maturing in six months. The auctions will pay down $18 billion of outstanding bills, part of the $61 billion decline in supply that Lou Crandall, Wrightson ICAP's chief economist, expects over the next month, in part as the government's cash flow picks up.
But come October, Wall Street predicts issuance to pick up. That's why analysts, including at Deutsche Bank AG and Citigroup Inc., have recommended wagering that short-term funding costs will rise again, from repurchase agreements to the London interbank offered rate.
That renewed pressure on short-end rates could play into bets on further yield-curve flattening in the coming months. For Simons at Jefferies, with the Fed still projecting gradual rate increases, maybe the only thing that could derail the flattening trend is a potential shift on Treasury's part to lean more heavily on longer maturities.
"I don't see how the long end breaks out until there's a lot more pressure from issuance," he said.
U.S. markets are closed Monday for Labor Day, and cash Treasuries are shut globally
The U.S. is poised to put tariffs on an additional $200 billion in Chinese imports, and Beijing is expected to retaliate immediately, soon after the Trump administration's public comment period expires this week
The big event to watch for U.S. economic data is nonfarm payrolls

Sept. 4: Markit U.S. manufacturing index; construction spending; ISM manufacturing
Sept. 5: Mortgage applications; trade balance
Sept. 6: Challenger job cuts; ADP private employment; jobless claims; productivity; Markit U.S. services index; ISM non-manufacturing index; factory orders; durable goods
Sept. 7: Nonfarm payrolls

Fed presidents get busy

Sept: 5: Minneapolis Fed President Neel Kashkari speaks in Montana; St. Louis Fed's James Bullard speaks in New York
Sept: 6: New York Fed's John Williams speaks at the University of Buffalo
Sept. 7: Boston Fed's Eric Rosengren delivers opening remarks at Boston Fed conference; Cleveland Fed's Loretta Mester moderates a panel at the event; and Dallas Fed's Robert Kaplan speaks at energy conference in Dallas

Here's the schedule for Treasury auctions

Sept. 4: $48 billion of three-month bills; $42 billion of six-month bills; and $55 billion of four-week bills