Bond Traders Gird for Torpor's End in Whirlwind of a Summer Week
(Bloomberg) -- For Treasuries traders, this week isn't going to offer much of a summer lull. Far from it.
Central banks in both the U.S. and Japan are set to gather, while the Treasury will detail its latest plans for funding America's burgeoning budget deficit. A fresh read on the nation's labor market rounds out the week. These are all events with implications for one of the biggest topics in fixed-income -- the shape of the yield curve.
Put it all together and there's a risk Treasuries emerge at least briefly from the torpor that's kept 10-year yields in a tight range since they failed to extend a break above 3 percent in May. The Treasury's choice of maturities as it ramps up issuance may strengthen the flattening trend, as could a Federal Reserve reaffirmation that it plans to hike rates gradually. But any hint that the Bank of Japan is adjusting its ultra-loose monetary policy could spark the reverse.
"There is definitely a good chance for volatility this week, which also includes month-end," said Peter Tchir, head of macro strategy at Academy Securities Inc. "Especially as the Street might be lightly staffed, so there won't be the liquidity we are used to. And if the data continues to come in strong, yields could be pressured higher."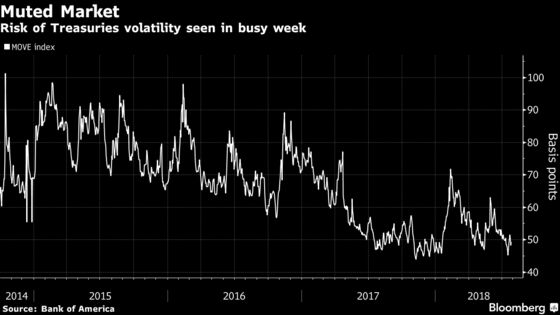 Last week, the 2- to 10-year Treasuries yield gap had its largest two-day steepening since February on reports of a possible BOJ policy tweak. Japan's central bank will release a statement July 31, the day before a Fed decision that's expected to produce no change in stance. The 2- to 10-year spread still wound up narrowing last week, and is close to the flattest since 2007.
Jim Caron, a senior fixed-income portfolio manager at Morgan Stanley Investment Management, expects flattening to continue, aided in part by the Treasury's Aug. 1 announcement of its quarterly debt sales.
Dealers say coupon-bearing debt auctions will probably rise for the third straight quarter, and many predict Treasury will keep a bias toward shorter maturities, which may help narrow the gap between short- and long-term yields.
"The path of least resistance for the curve is more flattening," Caron said. "There is no question that you are going to have more supply."
The curve from two to 10 years hasn't been inverted since 2007. Several Fed officials, including the Minneapolis Fed's Neel Kashkari, have warned about the need to avoid inverting the curve by hiking rates.
The economic data don't indicate much of a slowdown. Figures last week showed gross domestic product expanded in the second quarter at the fastest pace since 2014. Reports this week should underscore that the labor market is tight and inflation remains above the Fed's 2 percent goal.
Michael Franzese, head of fixed-income trading at broker-dealer MCAP LLC, doesn't see any reason to fret about a recession even as the curve compresses.
"The back end of the yield curve has been well supported," he said. That's more "a function of central-bank buying than an economic signal that we are pushing toward a recession with the flattening of the yield curve."
Plenty ahead from central banks: In addition to decisions from the BOJ and the Fed, the Bank of England is expected to raise its key rate Aug. 2.
For economic data, the focus is on Friday's U.S. jobs and trade figures:

July 30: Pending home sales; Dallas Fed manufacturing; Treasury's borrowing statement
July 31: Personal income and spending; employment cost index; S&P CoreLogic Case-Shiller home price indexes; Chicago manufacturing index; Conference Board consumer confidence
Aug. 1: MBA mortgage applications; ADP employment; Markit manufacturing PMI; construction spending; ISM manufacturing
Aug. 2: Challenger job cuts; jobless claims; Bloomberg consumer comfort; factory orders; durable goods
Aug. 3: Trade balance; payrolls data; Markit U.S. services; ISM non-manufacturing

On top of the refunding announcement, investors also get bill auctions:

The U.S. will issue $51 billion of three-month bills and $45 billion of six-month bills on July 30, followed by four-week bills on July 31