Bond Traders Eye Fedspeak for Sign of Doubt After Stocks Swings
(Bloomberg) -- Bond traders will look to key Federal Reserve speakers this week for any signs that officials are wavering from their plans to keep hiking rates gradually after U.S. stocks suffered their worst weekly sell-off since March.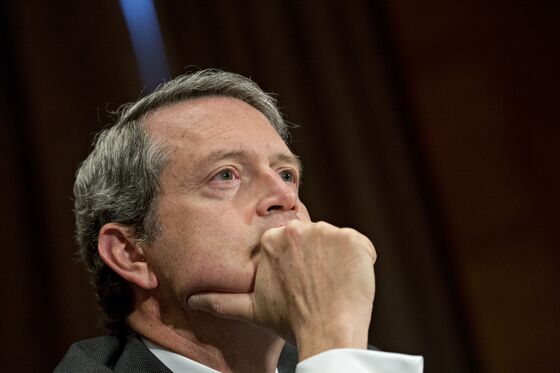 In the first quarter, the Fed looked past a tumble in the S&P 500 Index to tighten in March. Still, money-market traders have some doubts this time around, at one point last week dialing back confidence in the prospect of three rate increases next year. For investors seeking fresh insight into the central bank's thinking, Randal Quarles, the Fed's vice chairman of supervision, may garner the most attention when he speaks on the economic outlook Thursday.
The tumult in stocks, which pared their losses Friday, has helped reverse a surge in the benchmark 10-year Treasury yield to as high as 3.26 percent, a level last seen in 2011. Haven buying of longer maturities may also have factored into a resumption of the months-long trend of curve flattening, which regained momentum during the week as shares sank.
"It's very important for the market to get an updated read from the Fed in terms of their interpretation of the recent equity-market volatility," said Alex Li, head of U.S. rates strategy at Credit Agricole SA. "And a lot of the movement in yields will depend on how the equity market performs."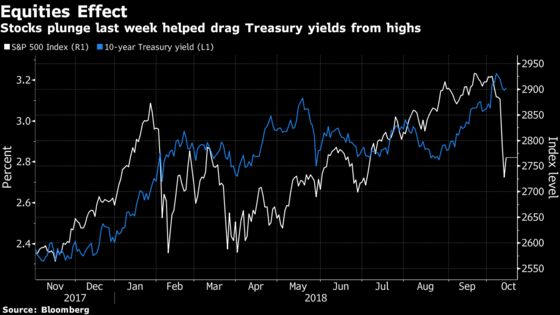 The 10-year note swung last week from a seven-year high of 3.26 percent Tuesday to as low as 3.12 percent Thursday, before ending Friday at 3.16 percent. Its spread above two-year yields narrowed to around 30 basis points.
It's not all about equities and the Fed this week. A potential catalyst for another turn higher in yields could come in the Treasury's report on international demand for U.S government debt in August. China's holdings bear watching after a senior Chinese adviser said the country should scale back Treasuries purchases as its trade dispute with the U.S. intensifies.
One key to trade tensions may come from the Treasury's expected decision this week on whether it views China, or any other nation, as manipulating their exchange rate. While President Donald Trump has pressured the Treasury to declare China a manipulator, people familiar with the matter said department staff have advised that they haven't found grounds to do so.
As for Fed expectations, while traders still see a December hike as all but certain, last week's market swings did push some to exit wagers that had seemed a sure bet, such as 10-year rates moving higher. Evercore ISI's Krishna Guha told clients the S&P 500's losses last week weren't enough to alter the Fed's plans.
Fed officials projected in September that they'd likely raise rates three times in 2019, after one more hike in 2018. More insight into those views will come this week with the release of minutes from the last Fed meeting.
William O'Donnell at Citigroup Inc. said economic data may cause swings in Treasuries, especially figures on the housing market, where higher mortgage rates could compound weakness.
"I've heard and seen more focus on housing than I have in a long time, as it has been years since we had a 30-year fixed-rate mortgage at 5 percent," said O'Donnell, a managing director. While that's low historically, "the first sign of economic stress from higher U.S. rates will likely emerge in housing."
The Fed's Quarles should be the highlight among central-bank speakers, with remarks to the Economic Club of New York on Oct. 18

Oct. 16: San Francisco Fed's Mary Daly speaks
Oct. 17: Fed Governor Lael Brainard speaks in Boston
Oct. 18: St. Louis Fed's James Bullard speaks in Memphis
Oct. 19: Dallas Fed's Robert Kaplan speaks in New York; Atlanta Fed's Raphael Bostic speaks in Georgia

For economic releases, housing and retail sales take center stage, while the Treasury's monthly budget statement is also expected:

Oct. 15: Empire manufacturing; retail sales; business inventories
Oct. 16: Industrial production; NAHB housing index; JOLTS job openings; Treasury International Capital flows
Oct. 17: MBA mortgage applications; housing starts/building permits; FOMC minutes
Oct. 18: Jobless claims; Philadelphia Fed index; Bloomberg consumer comfort index; leading index
Oct. 19: Existing home sales

Treasury will auction bills and inflation-linked debt, including the inaugural two-month bill sale:

Oct. 15: $45 billion of three-month bills and $39 billion of six-month bills
Oct. 16: 4-week and 8-week bills will be sold
Oct. 18: Treasury will sell $5 billion of 30-Year TIPS in a reopening