Bond Managers Mobilize for Spike in Nordic Sales to Pay for M&A
(Bloomberg) -- Another heavyweight Nordic arranger is girding itself for a rush of bond sales in the first six months of the year.
"We believe there are a number of possible larger M&A related financings in stock for 2020," said Helena Colling, global head of syndicate at SEB AB and Elias Spangenberg, the bank's head of corporate syndicate. "In addition, the broadening of green issuance from a sectoral standpoint continues with several new issuers looking at accessing the green capital pool."
SEB was the second biggest bond manager of Nordic corporate deals last year with a 12% slice of the market, according to data compiled by Bloomberg. Non-financial companies from the region took advantage of historically low borrowing costs to price 36 billion euros equivalent ($40 billion) of debt in 2019, up 33% on the prior year, the data show.
The pace of deals so far in January has certainly been brisk with Europe's bond market seeing its best ever start to a year. In the Nordic region, Volvofinans Bank AB and Scania AB have issued in domestic currencies, while Mowi ASA and Stena AB were among those pricing euro deals.
The team at SEB see further "secular trends" driving Nordic issuance in the coming months, including real estate borrowers tapping the capital markets to refinance bank debt, as well as hybrid bond sales from companies seeking to improve their capital structure.
Earlier this month bankers from Nordea Markets also predicted an intense first half of 2020 before the potential disruption of a U.S. election and trade negotiations around Brexit.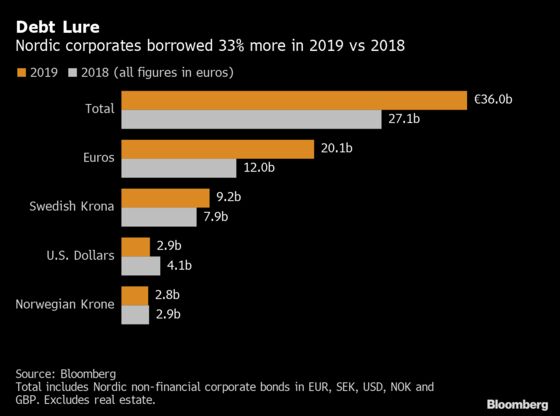 Candidates for bond sales in euros this year include Fortum Oyj, which is likely to fund its acquisition facility relating to the Uniper SE transaction via the capital markets, as well as Telia Co AB after its acquisition of Bonnier AB's TV operations, Danske Bank analyst Natasja Cordes wrote in a note to clients.
In Swedish Krona, borrowers such as BillerudKorsnas AB, Hexagon AB and Peab AB may emerge, Cordes said.
Nordic corporates have at least 15 billion euros equivalent of debt maturing this year with the largest chunk denominated in euros, while 4.7 billion euros equivalent of Swedish Krona bonds are due to be paid back, according to data compiled by Bloomberg.
Volvo Treasury AB has the largest pile of debt due this year with around 2.8 billion euros equivalent maturing. The Swedish truck-maker's issuance will be targeted to fund new business in its Volvo Financial Services division, according to the company's spokesman Claes Eliasson.
Should favorable market conditions continue, more Nordic borrowers may tap the euro market by reducing issuance in domestic currencies "as a way to access more capital and longer tenors at competitive prices," SEB's Colling and Spangenberg said.
Click here to access the new issue monitor for Nordic currencies