Bond Investors Steer Clear of the Fed's Steamroller
(Bloomberg Opinion) -- The U.S. Treasury auctioned two- and five-year notes this week that offered the highest yields in a decade. And yet buyers balked.
The $37 billion two-year offering priced to yield 2.829 percent — a lofty figure, considering it was a mere 0.75 percent just two years ago. Yet the bid-to-cover ratio, a gauge of demand, plunged to 2.44, matching the weakest level since December 2008. Effectively, investors sat this auction out, leaving primary dealers taking down their largest share since late 2016. The $38 billion five-year auction yielded 2.997 percent, yet demand this year has never been worse.
It's clear that traders in the world's biggest bond market see little reason to pick up a handful of extra basis points in front of what could be a steamroller of a Federal Reserve decision on Wednesday. Though it's virtually certain that the central bank will raise interest rates, the big risk is that officials will signal a more aggressive path ahead. Remember, it's at the September meeting that policy makers extend their "dot plot" out an extra year (in this case, to 2021). Notably, the Fed has never raised interest rates at a September meeting in this tightening cycle. The prospect of boosting them above "neutral" in the next few years would be most damaging to the maturities auctioned this week.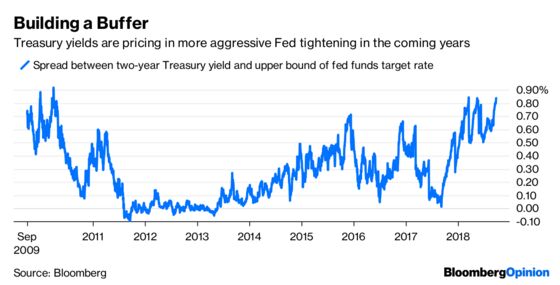 Market positioning offers little direction ahead of the Fed. Sure, a JPMorgan Chase & Co. Treasury client survey showed a decrease in short positions for the week ended Sept. 24. But data from the Commodity Futures Trading Commission is the same as it has been for most of this year: Hedge funds and other large speculators are betting heavily on interest rates moving higher, while asset managers are taking the other side.
It seems as if Treasuries are set up "for volatile yield reactions tomorrow afternoon," according to Jim Vogel at FTN Financial Capital Markets. It doesn't help that "as traders are nervous before tomorrow, volume during domestic trading has been slower than average," he wrote in a note after Tuesday's auction.
Those who are willing to fight their nerves could be rewarded. Two-year Treasuries yield 84 basis points more than the upper bound of the fed funds target range, which is 1.75 percent to 2 percent. That's nearly the widest spread since 2010. In other words, the idea of a Fed "pause" has practically been eradicated as a possibility after it seemed like the most likely scenario just a short time ago. Remember when Chairman Jerome Powell said rate hikes were the best option "for now"?
Still, investors are prudent to build in a buffer — or just outright avoid Treasury auctions — until the Fed decision and Powell's press conference are in their rearview mirror. There are simply too many wild cards that central bankers could choose to highlight or ignore, from the effects of tax cuts to the continuing trade war to the surprisingly strong pickup in wage growth. It's too risky to fight the Fed, no matter how tempting the yields.
This column does not necessarily reflect the opinion of the editorial board or Bloomberg LP and its owners.
Brian Chappatta is a Bloomberg Opinion columnist covering debt markets. He previously covered bonds for Bloomberg News. He is also a CFA charterholder.