Bombardier Sinks Most Since 2015 as Hopes Dim for Turnaround
(Bloomberg) -- Bombardier Inc. tumbled the most in more than three years as disappointing cash-flow forecasts sowed doubts about Chief Executive Officer Alain Bellemare's turnaround of the debt-laden maker of trains and aircraft.
The company will only be able to attain its target of breaking even on a cash-flow basis this year by including the proceeds from a $635 million land sale in Toronto. Next year's outlook for breaking even, plus or minus $250 million, frustrates expectations for a significant improvement, said Nick Heymann, an analyst at William Blair in New York.
"Why is the cash not coming through in 2019? That's the biggest concern for investors," Heymann said. "Right now they are using some asset sales to make sure they have the cash resources to operate safely."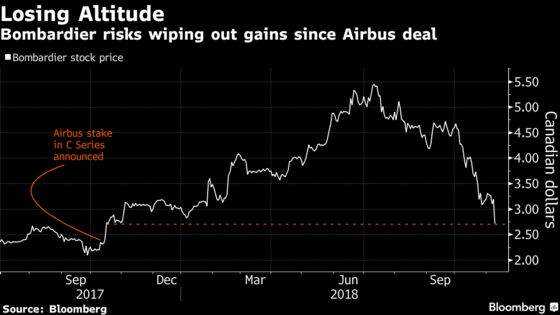 Bellemare also accelerated his push to streamline Bombardier by announcing 5,000 job cuts and sales of the company's Q400 turboprop operation and a training business, which together will raise about $900 million. Bombardier is working off $9.5 billion in adjusted debt, which it incurred as it poured money into two aircraft-development programs plagued with delays and cost overruns.
The company's widely traded Class B shares plunged 17 percent to C$2.65 at 1:20 p.m. after sinking as much as 27 percent for the biggest intraday decline since January 2015. The drop threatened most of the stock gains since Bombardier announced a deal last year to cede its cash-draining C Series jetliner program to Airbus SE.
Bombardier's bonds also dropped, with the 7.5 percent note maturing in 2025 falling to 99.25 cents on the dollar, according to Trace, the bond-price reporting system of the Financial Industry Regulatory Authority. That was the lowest in 14 months.
The company will save about $250 million a year by 2021 from the employment reduction, which is the CEO's third since taking the reins in 2015. The cut represents more than 7 percent of the company's workforce.
"This is very bad news, it sends a worrisome message about the future of the industry," Renaud Gagne, head of the Unifor labor union's Quebec branch, said in a statement. "We are in the dark as far as what comes next."
Half the lost jobs will be in Bombardier's home province of Quebec, with another 500 in Ontario. A company spokesman declined to say where the others would be. Bombardier's footprint includes factories in the U.S., Europe and India.
Quebec gave the company a lifeline about three years ago by agreeing to invest $1 billion in the C Series program. The Canadian government provided Bombardier with C$372.5 million in reimbursable funding for the C Series and Global 7500 programs last year, stopping short of directly investing in the company.
"What have taxpayers got for their money?" Norm Levine, managing director at Portfolio Management Corp. in Toronto, said in an interview with BNN Bloomberg television. "This is a trading stock, not an investing stock."
Bombardier is further stepping back from commercial aviation by selling its Q Series turboprop program and de Havilland trademark to a subsidiary of Canada's Longview Aviation Capital Corp. for about $300 million. Longview is the parent company of Viking Air Ltd., which makes the Twin Otter propeller plane and other models.
Bellemare expects $800 million from the sale of Bombardier's business-jet flight and technical training activities to CAE Inc. and the monetization of royalties. Both deals are expected to close in the second half of next year, and Bombardier will get an estimated $900 million from the transactions after certain liabilities and fees.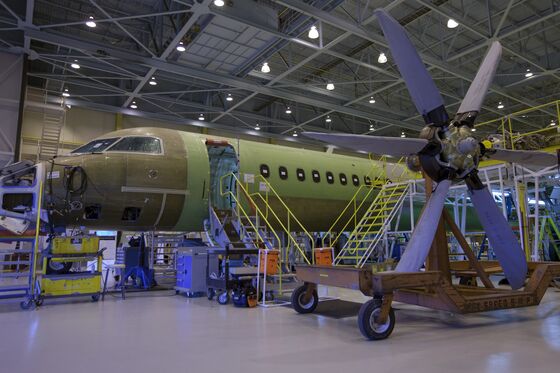 Bellemare probably isn't done remaking Bombardier. The company said it will explore options for its CRJ regional-jet program. The focus for now is on reducing cost and increasing volume while optimizing aftermarket revenue for about 1,500 CRJs in service.
The moves hasten a future that will revolve around private jets and trains. Together, those two businesses accounted for about 88 percent of third-quarter sales.
Bombardier's liquidity boost from the asset sales should bring the company closer to reacquiring a minority stake in its rail business from the Caisse de Depot et Placement du Quebec, RBC Capital Markets analyst Walter Spracklin said. Bombardier is assessing buyback options for the stake, Chief Financial Officer John Di Bert said on a conference call with analysts.
The Global 7500 private jet is set to debut next month, marking the end of the company's heavy investment cycle. Bombardier retained a minority stake in the C Series, which Airbus renamed the A220.
With the aerospace investment effort complete, key engineering team members will be redeployed. The largest group will move to the private-plane operation "to ensure they have all the necessary capabilities for future business jet development programs," Bombardier said.
Bellemare cited capital needs at the company's rail business for spoiling this year's goal of breaking even on a cash-flow basis, plus or minus $150 million. The company had previously said it would meet that goal without tapping the proceeds from the sale of its Downsview facility in Toronto.
Next year's goal of break-even cash flow, plus or minus $250 million, includes the impact of two one-time items: a $250 million restructuring charge from the job cuts, and a $250 million contingency for working-capital volatility. Analysts had been expecting free cash flow of $439 million next year, according to the average of analyst estimates compiled by Bloomberg.
Bombardier is counting on a 2019 sales boost from the Global 7500, its largest business aircraft. The Montreal-based manufacturer expects to deliver 15 to 20 of the planes next year, and twice as many in 2020, Di Bert said.
Revenue will increase about 10 percent to $18 billion, with earnings before interest, taxes and special items targeted to climb about 20 percent to as much as $1.25 billion, the company said.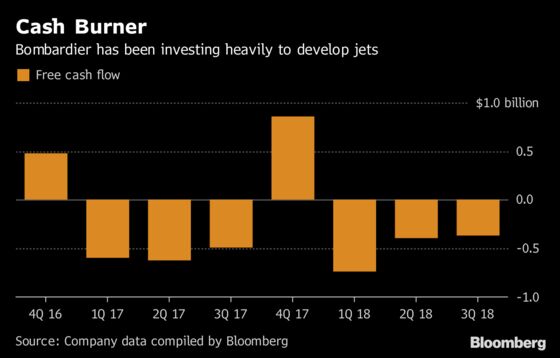 In the third quarter, adjusted earnings rose to 4 cents a share, topping the 2 cent average of analyst estimates compiled by Bloomberg. Sales fell 5.1 percent to $3.64 billion, compared with the average estimate of $3.87 billion. The company burned through $370 million of cash in the period, an improvement from the $495 million it used a year earlier.
Results in Bombardier's regional aircraft business, which includes the Q400 turboprops and the CRJs, have traditionally lagged those of trains and business jets.
In the third quarter, the commercial aircraft business recorded a loss of $9 million before interest, taxes and special items. Profit in trains was $187 million, while business aircraft earned $89 million.