Turkey Readies Islamic State Battle Plan as U.S. Warns on Kurds
(Bloomberg) -- Defeating Islamic State is a top priority for Turkish officials eager to see American troops withdraw from Syria, and they'll discuss their plans with visiting U.S. National Security Adviser John Bolton, according to a person with direct knowledge of the matter.
The talks will take place against a tense background. Both Bolton and Secretary of State Mike Pompeo have warned Turkey that the planned U.S. pullout musn't be seen as an opportunity to attack Syrian Kurdish forces who've been the foot soldiers in the U.S.-led campaign against the jihadist group.
Turkey has long pushed the U.S. to end its alliance with Kurdish YPG fighters and has threatened an offensive against the group, which it views as an extension of Kurdish separatists it's battled at home for decades. After President Donald Trump's abrupt decision last month to quit Syria drew fire at home for exposing Kurdish allies to a Turkish offensive, Turkey acceded to U.S. requests to fight Islamic State to avoid derailing the recent convergence of policy on Syria.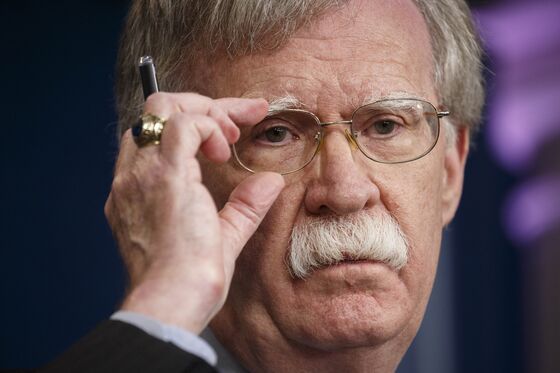 Bolton, Joint Chiefs of Staff Chairman Joseph Dunford and James Jeffrey, the U.S. special representative for Syria engagement, are scheduled to meet Turkish officials in Ankara on Tuesday.
Turkey wants the U.S. to provide air support for its troops against Islamic State militants who hold several villages near the Syria-Iraq border and the city of Hajin, which lies more than 250 kilometers (155 miles) south of the Turkish border, said the person, who has direct knowledge of Turkey's plans but isn't authorized to speak to the media.
NATO's second-largest army could open a corridor to the south along Syria's border with Iraq, but the YPG, which is deep inside Syrian territory, must move aside, the person said.
Another option for the Turkish military is to move south inside Iraq and cross the Iraqi-Syrian border to reach areas controlled by Islamic State, the person said.
Trump's plan to exit Syria may have already encouraged Kurdish fighters to leave some of the areas they held. Intelligence reports suggest Kurdish forces have started withdrawing from some areas between the Syrian border towns of Kobani and Ras al-Ayn, northwest of Hajin, the person said.
In Israel on Sunday, Bolton said U.S. troops will stay in the northeast Syria until Turkey agrees not go after the Kurdish forces. "We don't think the Turks ought to undertake military action that's not fully coordinated with and agreed to by the United States," Bolton said.
That comment built on frictions that flared on Friday after Secretary of State Mike Pompeo said in an interview the U.S. wanted to ensure the "Turks don't slaughter the Kurds" once its troops are out of the region. An enraged Ankara took the rare step of issuing a written denunciation of Pompeo's remarks.
Turkey has been hoping for a quick withdrawal of U.S. troops from Syria because an offensive against the YPG could help Erdogan consolidate nationalist voters' support for his ruling AK Party in local elections in March. But U.S. officials have refused to give a specific timetable for the pullout.
"We want to protect the Kurds, but I don't want to be in Syria forever," Trump said last week. "It's sand. And it's death."