Bolsonaro's Inner Circle Rushes to Get Tested: LatAm Virus Wrap
(Bloomberg) -- From the foreign minister to the CEO of a state-run bank and the U.S. ambassador to Brazil, everyone who has come into contact with President Jair Bolsonaro -- and there are a lot of them -- is scrambling to get tested following his positive diagnosis.
Bolsonaro, who is rarely seen wearing a mask, met with more than two dozen top officials in the capital Brasilia over the past week. Until his positive test became public Tuesday, he had continued mingling with enthusiastic supporters outside the presidential palace and on weekend outings throughout the pandemic, even at the outset of Covid-19 symptoms.
Investors haven't shown overt signs of concern with Bolsonaro's health so far, but any sign that his economic czar, Paulo Guedes, 70, is ill could alter their mood. Guedes, the mastermind behind badly needed fiscal reforms and privatizations, tested negative last week and will repeat the exam in coming days. Central Bank board members have gotten clean bills of health so far.
At least seven of Bolsonaro's closest collaborators and ministers planned to take a test in the past 48 hours, including Foreign Minister Ernesto Araujo and Chief of Staff Walter Braga Netto, who attended a July 4 lunch with the U.S.'s top diplomat in Brazil. So far, no one else within his inner circle has made public any positive results. Since the outset of the pandemic, 108 civil servants of 3,400 working at the presidency have been infected.
Bolsonaro's positive test adds to the group of world leaders who have caught the virus and represents something of a second wave of infections among policy makers in Brazil's capital. A rush of infections first swept through Brasilia in March after Bolsonaro and his team met with U.S. President Donald Trump at his Mar-a-Lago resort in Florida.
The Federal District reported a record new 2,500 new cases on Tuesday. More than 96% of ICU beds reserved for Covid-19 patients are occupied in private clinics in Brasilia, with public hospitals hitting 82% of capacity, according to local health authorities.
Latin America blew past the 3 million mark for infections on Tuesday as disjointed social-distancing measures have failed to dent the coronavirus trajectory. More than 132,000 people have died from Covid-19 in the region, a quarter of the global total.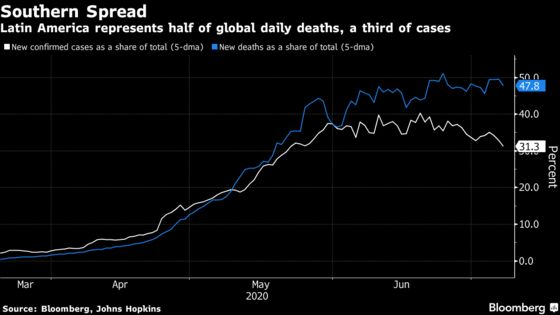 Elsewhere in Latin America:
Bolivia's Central Bank chief, Guillermo Aponte Reyes Ortiz, tested positive on July 6. Vice President of the board, Armando Pinell Siles, will temporarily take over his responsibilities.
Mexico President Andres Manuel Lopez Obrador, who tested negative this week, is in Washington to meet with Trump, his first trip abroad in three years. This risky bet is driven by Lopez Obrador's conviction that, above all, he needs to safeguard Mexico's commercial relationship with the U.S.
In Chile, copper producers are battling to maintain output levels as scores of mine workers fall ill amid a nationwide surge of infections.
Colombia extended its national lockdown through Aug. 1, allowing some exceptions in a bid to boost production.
El Salvador is selling a 32-year bond to fund general budgetary purposes including coronavirus relief and recovery efforts.
| Country | Cases | Deaths |
| --- | --- | --- |
| Brazil | 1,668,589 | 66,741 |
| Peru | 309,278 | 10,952 |
| Chile | 301,019 | 6,434 |
| Mexico | 268,008 | 32,014 |
| Colombia | 120,281 | 4,452 |
| Argentina | 83,426 | 1,644 |
| Ecuador | 63,245 | 4,873 |
| Bolivia | 41,545 | 1,530 |
| Panama | 40,291 | 799 |
| Dominican Republic | 38,430 | 821 |
| Honduras | 25,428 | 677 |
| Guatemala | 24,787 | 1,004 |