Brazil's Bolsonaro Digs In After Rallies Failed to Move Needle
(Bloomberg) -- Brazil President Jair Bolsonaro rallied thousands of supporters in Tuesday's pro-government marches that stand to shore up his political base and at the same time fail to win back moderates who propelled him to the nation's top job. 
Speaking before massive crowds in Brasilia and Sao Paulo, Bolsonaro prioritized harsh criticism of the Supreme Court and electoral authorities. Still, problems including high unemployment and surging food and electricity prices are weighing on his re-election prospects. The president's approval has sunk to about 25%, and he is struggling for a reset ahead of the 2022 elections.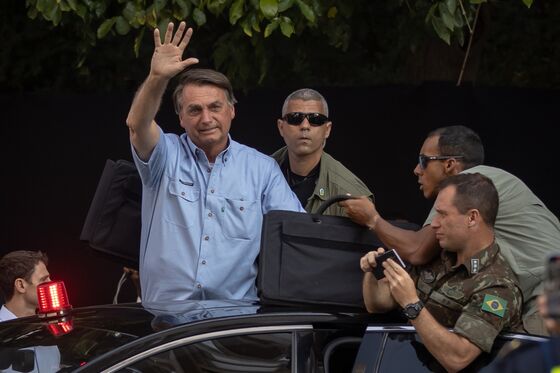 "His entire base went out into the streets, but it isn't a majority of Brazilian voters," said Carolina Botelho, a political scientist at the State University of Rio de Janeiro. "He didn't do anything to build out his base. He was preaching to the converted."
Bolsonaro has ratcheted up his rhetoric in recent months, sparring with the top court over what he says are rulings beyond its authority, and with electoral authorities over unsubstantiated claims of voter fraud. 
The rising tensions have been taking a toll on local assets. Brazil's stock market, which was closed Tuesday for the Independence Day holiday, fell 1.6% on Wednesday, underperforming most major gauges. The real declined 1.1% as of 10:50 a.m. local time, one of the worst performers among emerging-market currencies.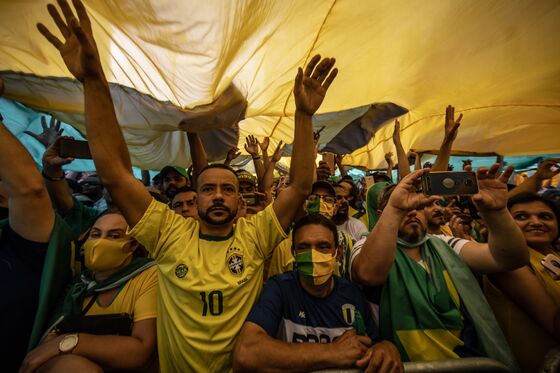 "We will no longer accept that people like Alexandre de Moraes continue to lash out at our democracy and disrespect our constitution," Bolsonaro said in Sao Paulo, referring to the Supreme Court justice who has authorized probes against the president and his allies for alleged attacks against democracy. "I will never be jailed." 
Judge Moraes said on Tuesday that democracy needs to be respected. Supreme Court Chief Justice Luiz Fux is expected to address Bolsonaro's claims in a speech this afternoon.  
Sao Paulo's center-right governor, Joao Doria, said publicly for the first time he supports Bolsonaro's ouster. The leadership of his party, the PSDB, said it will meet to discuss a position on the opening of impeachment hearings, a path that still has a very low probability of success given the president's alliance with key parties in congress.
"His supporters won't leave him now, but he doesn't improve his standing in the polls with further radicalization," said Mario Braga, the lead Brazil analyst at Control Risks, a consultancy. "He's trying not to lose more support from his hardcore base."
Some of Bolsonaro's backers in the streets on Tuesday were openly advocating for a military takeover of Brazil's institutions. Indeed, the president's open conflict with other branches of government has prompted the banking and agriculture lobbies, once key constituents, to speak out against him.  
Tension between Bolsonaro and Brazil's courts will probably deepen further following Tuesday's "fiery rhetoric," political consultancy Eurasia Group said in a note. Still, the odds of an impeachment remain very low.
"Not only is it hard to impeach a president with 30% approval ratings, but lower house speaker Arthur Lira remains on board with the administration," Eurasia said.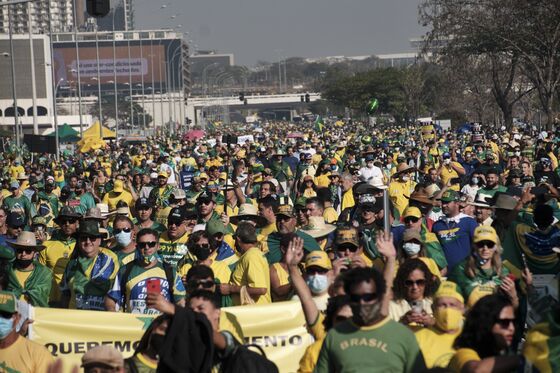 Going forward, the former army captain will still have to contend with a growing list of challenges. A senate probe into his erratic handling of the pandemic continues to uncover signs of scandal, including possible wrongdoing in the procurement of vaccines against Covid-19. 
Against such a turbulent background, Bolsonaro has used insinuations of democratic disruption to inflame his loyalists and attack the country's institutions, especially the Supreme Court. Expressing doubts over the impartiality of the electoral system by which he won office has also become a key rallying point.
"Bolsonaro will keep testing the limits," said Botelho.