Policy Doubts Rise as BOJ's Price Goal Recedes Into the Distance
(Bloomberg) -- The Bank of Japan's latest forecasts show that even nine years of radical monetary stimulus won't be enough to achieve 2 percent inflation -- raising doubts about how aggressively it can continue to pursue the goal as policy side effects pile up.
The BOJ, which is already facing calls from lawmakers, investors and the banking industry to be more flexible about achieving the target, said on Thursday that core consumer price gains will average no better than 1.6 percent until at least the fiscal year ending in March 2022.
It left its key monetary settings unchanged while sowing confusion with a change to the wording of its "forward guidance." It had previously pledged to keep interest rates at current low levels for an "extended period" that was vaguely linked to a sales-tax hike set for October. It now says they'll stay where they are until "at least through around spring 2020," yet core CPI is projected to be as little as 1.1 percent then.
"The forward guidance sounds a bit more hawkish than the market expected," said Hiromichi Shirakawa, chief Japan economist at Credit Suisse Group and a former BOJ official. "I see this as a message that the BOJ isn't looking at further easing and policy normalization isn't off the table."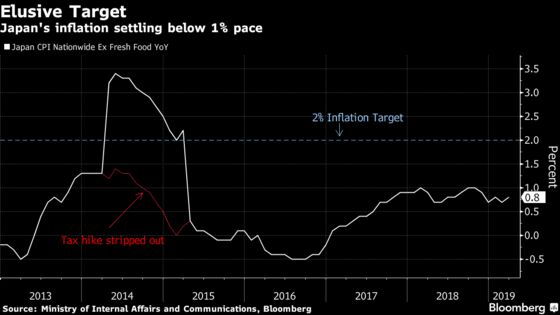 Regardless of how the guidance is interpreted, Japan's inflation outlook is also a concern for some of its global peers, who are also struggling with stubbornly low price gains and even talk of "Japanification."
Many policy makers from Europe to Asia have paused interest-rate hikes or turned dovish again. The Federal Reserve signaled it won't hike interest rates again at least for a while, while the European Central Bank offered fresh stimulus.
The Bank of Korea last week signaled additional rate hikes were unlikely, despite record household debt that's fueled by low borrowing costs. It will face more pressure to reverse course and cut rates after data Thursday showed its economy shrank by the most in a decade.
"Japan's situation wouldn't necessarily provide lessons for Europe and the U.S., but it is true that we share a similar situation: prices haven't gone up even while the economy is doing pretty well," BOJ Governor Haruhiko Kuroda said.
Side effects: Japan property market flashes warning to BOJ
Stubborn inflation has policy makers around the world questioning the wisdom of pursuing 2 percent inflation at nearly any cost.
Japanese Finance Minister Taro Aso last month added to calls for a flexible approach, saying things could "go wrong" if 2 percent is chased too relentlessly, and noting that few Japanese people would be upset if the BOJ never reached it.
Kuroda reiterated the BOJ's stance that momentum toward the price target had been maintained. He noted that risks to inflation and the economy were tilted to the downside, but said the global economy was expected to pick up in the second half of the year.
He said the change to forward guidance was meant to clarify his commitment to stimulus and to signal that the BOJ didn't plan to review interest rates immediately after the sales-tax hike. "We won't increase the interest rate at least until spring 2020," he said, adding that that didn't mean it would definitely consider doing so even then.
What Bloomberg's Economists Say ...

"The minor tweak to the Bank of Japan's forward guidance doesn't change the big picture -- monetary policy is likely to remain extremely easy for the foreseeable future. Core inflation remains less than halfway to the 2 percent target ... implying it still has a lot of work to do."

--Yuki Masujima, Japan economist
Click here to view his JAPAN REACT
Ahead of this week's meeting, nearly half of economists surveyed by Bloomberg said they expected the BOJ's next policy move to be more easing, up from 14 percent in December. Yet side effects are likely to constrain the BOJ.
"The BOJ couldn't just sit and do nothing when they forecast they won't meet the price target for years to come," said Naomi Muguruma, senior market economist at Mitsubishi UFJ Morgan Stanley Securities.
She also described the new forward guidance as a "bit hawkish," adding that the BOJ would probably like to raise rates again ahead of next summer's Olympic Games, when households will be in a buoyant mood.
A rate of -0.1 percent on some reserves financial institutions keep at the central bank.
Yield target of about zero percent for 10-year Japanese government bonds, with a trading range of about 0.2 percentage point on either side of the mark.
A target of increasing JGB holdings by about 80 trillion yen ($715 billion) a year is now secondary to controlling interest rates. The actual pace of purchases has fallen to well below half that rate.
A guideline to increase holdings of exchange-traded funds by 6 trillion yen a year. Actual purchases vary widely from month to month, depending on market conditions.