Boingo Skirts Tech Sell-Off as New York Transit Deal Spurs Gain
(Bloomberg) -- Boingo Wireless Inc. rose for the first time in three days, bucking a broad downturn among technology stocks as analysts cheered recent licensing agreements with New York's Metropolitan Transportation Authority.
The stock jumped as much as 6.2 percent and was on track to record its largest one-day gain in more than three months. Shares have fallen more than 28 percent from their Sept. 28 record, leaving them up 10 percent year-to-date.
In a report published Tuesday, William Blair analyst Jim Breen affirmed his outperform rating on the stock, pointing to the contracts for Boingo to build and operate wireless communication services on the Long Island Railroad.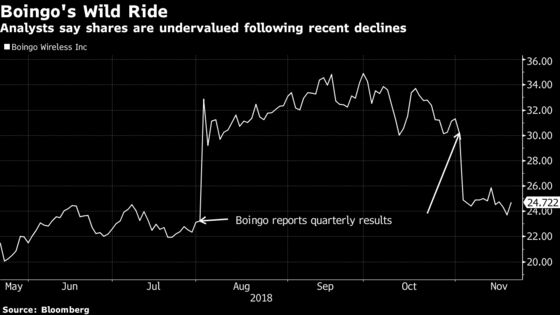 "We view Boingo's success with the MTA contracts as affirmation of the company's reputation and track record in deploying and operating large DAS and Wi-Fi networks," the report read. "While the initial revenue from these contracts will not be realized until late 2019 or early 2020, these contracts are indicative of potential future contract opportunities, in our view."
According to Craig-Hallum analysts, who cited MTA documents, one of the agreements is worth about $9.8 million while the other is worth approximately $8 million. "These are the largest DAS wins in the Company's history," they wrote in a report published on Monday.
"We believe these new recently announced wins are just a confirmation of what we already knew to be true: that WIFI's design win pipeline remains robust and they continue to beat the competition at heavily coveted venue locations," the firm wrote, affirming its buy rating and $36 target.
Shares of Boingo are up 11 percent this year despite the volatility that resulted from its two latest earnings reports. Second quarter results in August sparked a massive rally, though one which was almost entirely reversed earlier this month when the mobile internet service provider disclosed its third-quarter earnings.
At current levels, Boingo shares have shed nearly 30 percent of their value from a Sept. 28 record. Analysts said that Tuesday's rally, in addition to any benefit from the MTA agreements, also reflected a view that the sell-off had been overdone.
"The biggest issue is that it fell 20 percent despite a good report," said Scott Searle, senior research analyst at Roth Capital Partners, who spoke with Bloomberg News in a phone interview. "The MTA deals will help build out its footprint, but today is really about valuation and opportunity. Boingo is extremely well positioned over the next three to five years."
Searle has a buy rating and $40 target on the stock, which is the highest on the Street, according to data compiled by Bloomberg.
Paul Penney, managing director at Northland Securities, shared the sentiment.
"It got unjustifiably oversold after the earnings, and now investors are playing catch-up," he told Bloomberg via phone. "The underlying business is still very strong and it has multiple secular drivers. I sleep very well investing here."