BofA Says Don't Believe the Hype on a Housing Collapse
(Bloomberg) -- There's no shortage of warning signs for the housing market, but Bank of America says investors shouldn't fear the worst.
"Don't believe the narratives of a housing collapse," economist Michelle Meyer wrote in a note to clients on Tuesday. Meyer said the challenges facing the sector "should only be a slight drag on growth" and that "the recent decline in mortgage rates is well timed, ahead of the spring selling season."
Sentiment among U.S. homebuilders rose last week for the first time in three months amid a decline in borrowing costs, even as home sales have slumped. "We suspect that potential homebuyers who may have been scared from the market during the period of rising rates in the fall could see it as an opportunity to jump back in," wrote Meyer.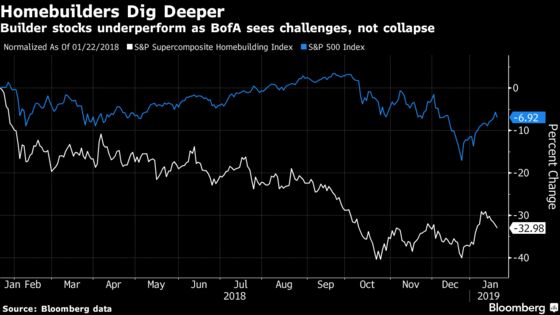 Bank of America's call comes as companies exposed to the housing market have disappointed. Building materials stocks tumbled last week after downgrades from SunTrust and disappointing earnings from Sherwin-Williams Co. Stanley Black & Decker Inc. added to the gloom Tuesday when it cut its sales forecast due to what it called "a reality check on slowing markets."