BofA Shares Jump as Retail Bankers Save the Day for Bond Traders
(Bloomberg) -- Bank of America Corp.'s consumer bankers saved the day for investors, sending shares surging as they helped make up for a bond-trading slump.
Gains in the retail-banking business drove a record profit for the company in the fourth quarter, helping counter a slide in fixed income that's been hurting all of Wall Street.
Bank of America shares jumped 6 percent at 10:42 a.m. in New York, making it the best performer in the S&P 500 Financials Index.
"We see in the U.S. strong indications of continued growth,'' Chief Executive Officer Brian Moynihan said on a call with analysts Wednesday. While customer activity "strongly supports a solid growth view,'' the company is watching for potential negative impacts from trade wars, the partial U.S. government shutdown, Brexit and economic slowdowns in China and Europe, he said.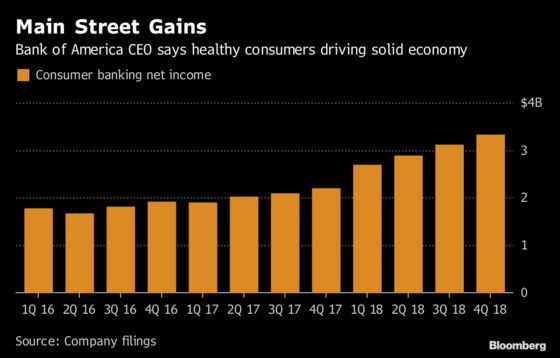 Net interest margin, the difference between what a bank charges borrowers and pays depositors, climbed to 2.48 percent in the quarter, more than what analysts predicted. Higher rates and improving loan growth have spurred larger profits at Bank of America's consumer business in each of the past seven quarters, allowing the bank to weather a loss of market share in its investment-banking unit as it pulled back on risk.
"We see nothing in our business to suggest that a slowdown is imminent, so we feel really good about the future," Chief Financial Officer Paul Donofrio said on a conference call with reporters.
"This was a very good quarter for BofA on an absolute and relative basis," Glenn Schorr, an analyst at Evercore ISI, wrote in a note. Despite a "brutal backdrop" last quarter, almost all of the bank's key numbers met or exceeded expectations, with the exception of weaker fixed income, currencies and commodities performance and mortgage production, Schorr wrote.
The company's sales and trading revenue for FICC dropped 15 percent to $1.4 billion in the fourth quarter, falling short of a median analyst estimate of $1.6 billion. That follows declines in bond-trading revenue at JPMorgan Chase & Co., which plunged to the lowest since the 2008 financial crisis, and Citigroup Inc., which fell to a seven-year low. In equities, trading revenue rose 11 percent at Bank of America.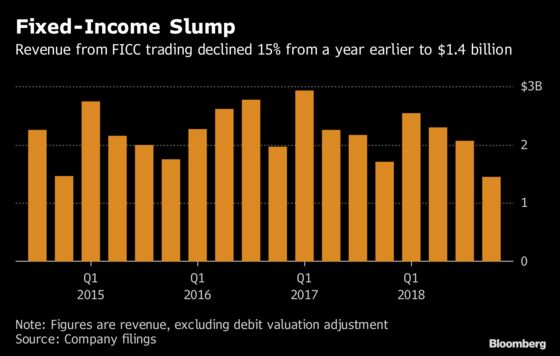 Bank stocks sank 18 percent last quarter as investors grew concerned about the potential for a U.S. recession and slowdown in global economic growth. That pessimism, alongside worries about trade tensions between the U.S. and China, triggered big price swings across equities, bonds and foreign exchange. While turbulence can sometimes spur banks' market-making activities, so-called "bad volatility," typified by extreme and short-lived price moves, kept wary clients on the sidelines.
Despite those headwinds, Bank of America's consumer business continued to shine. Average deposits in that division grew 3 percent, while its net interest income rose 12 percent. The unit's average loans increased 5 percent.
Fees from investment banking slipped 5 percent at $1.3 billion, beating a median estimate of $1.2 billion. Dealmakers are being sent out to rebuild market share after Charlotte, North Carolina-based Bank of America got "a little too careful," Moynihan said last month.
Other key results:
Net income tripled to $7.3 billion, or 70 cents a share, beating the 63-cent median estimate in a Bloomberg survey. The fourth quarter of 2017 included a charge related to U.S. tax reform.
Revenue climbed to $22.7 billion, exceeding the $22.4 billion analysts' estimate.
The full-year efficiency ratio, a measure of profitability, improved to 59 percent from 63 percent in 2017.
Operating leverage was positive for the 16th consecutive quarter.
The company's global wealth and investment management division boosted net income 43 percent to a record $1.1 billion.