BofA Stung by Shadow Banks as Investment-Banking Fees Slip
(Bloomberg) -- What's shaping up to be a banner year for global mergers hasn't been enough to boost Bank of America Corp.'s investment bank.
While analysts had expected the firm to lose share to rivals in advisory fees, BofA also posted a 29 percent decline in debt-underwriting revenue, almost twice the drop that had been estimated. That drove overall investment-banking revenue down 18 percent, compared with a 1 percent slip at rival JPMorgan Chase & Co.
Chief Financial Officer Paul Donofrio attributed some of the underperformance to his firm shying away from riskier leveraged finance deals amid increased competition from nonbank lenders, sometimes known as shadow banks. The firm's investment bank has also been grappling with a string of senior-level departures this year, including the exit of the business's head, Christian Meissner.
"You've got terms and structures that are getting a little bit more risky, so we are staying focused on responsible growth," Donofrio told analysts on a conference call Monday. "We're not chasing the market."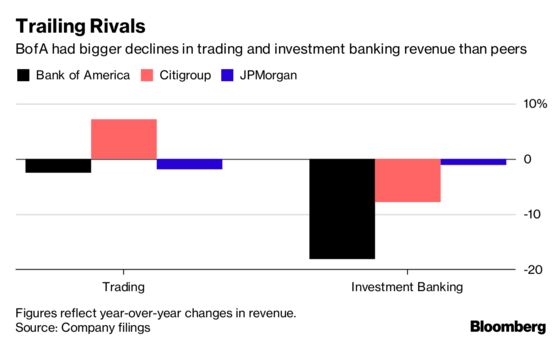 Shares of the company fell 2.5 percent to $27.76 at 12:00 p.m. in New York, the steepest decline in the 24-company KBW Bank Index. The decline brought this year's slide to 6 percent.
The fee slump, along with trading revenue that fell short of estimates, overshadowed a 25 percent jump in consumer-banking pretax profit and more progress on the firm's cost-cutting efforts.
Donofrio said the bank has a good pipeline in investment banking, which could bode well for fees in future quarters.
"I know we can do better," Donofrio told journalists on a separate call Monday. "I came from investment banking. I know they have built a great business, they have great bankers."
Chief Executive Officer Brian Moynihan has pushed a strategy of "responsible growth," which has led to a pullback from risk in some areas, bankers have said. People with knowledge of the decisions told Bloomberg this summer that some dealmakers in the U.S. and Europe departed to work at banks with less red tape because they felt constrained by the amount of risk they could take at Bank of America.
BofA's third-quarter drop was also more severe than at Citigroup Inc., where investment-banking fees fell 8 percent. In the second quarter, BofA was the only of the five major Wall Street firms not to report a jump in fees.
Companies announced about $3 trillion of mergers and acquisitions in the first nine months, according to data compiled by Bloomberg, giving 2018 a chance to beat the $4.1 trillion total set in 2007. But escalating trade tensions are starting to take a toll on business confidence, with appetite for corporate takeovers hitting a four-year low, according to a survey published earlier this month of more than 2,600 dealmakers across 45 countries by Ernst & Young LLP.