BofA Dethrones Local Bank in Brazil's Record Year for Equities
(Bloomberg) -- Brazil had its best year ever for equity sales, and Bank of America Corp. made the most of it.
The Wall Street lender is this year's top equity underwriter in the nation, handling 20.6 billion reais ($4 billion) and leapfrogging Banco Itau BBA and JPMorgan Chase & Co., which took the two top spots in 2019, data compiled by Bloomberg show.
"Back in March when the pandemic hit Brazil, we were very concerned and thought 2020 would be a lost year," Hans Lin, Bank of America's co-head of investment banking for Brazil, said in an interview. "But it all came back full-force starting in July, and the pipeline for 2021 is very busy."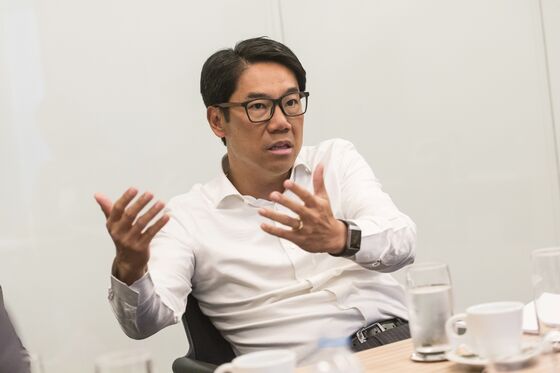 Latin America's biggest nation was hit hard by the Covid-19 outbreak, with 6.7 million confirmed cases and the second-highest death toll in the world. To help revive the economy, policy makers slashed the benchmark rate to an all-time low, prompting investors to dump their fixed-income bonds in favor of equities. Corporations, private equity firms and even the Brazilian government took advantage of investors' newfound appetite for stocks to raise cash.
A total of 154.3 billion reais in equity sales hit the market in 2020, a 47% surge that surpassed the previous record of 153.6 billion reais in 2010, data compiled by Bloomberg show. Total fees for equity underwriting in Brazil increased almost 18% in dollar terms, to $496 million, according to London-based research firm Dealogic.
Bank of America, based in Charlotte, North Carolina, was the lead underwriter on the biggest Latin American initial public offering this year, hospital operator Rede D'Or Sao Luiz SA's $2.2 billion transaction. It also handled the biggest block trade in Brazil's history, a $1.6 billion sale of Vale SA shares.
The nation's development bank is responsible for much of the equity deluge. BNDES sold a 22 billion-real stake it held in common shares of Petroleo Brasileiro SA at the beginning of the year, one of the biggest equity transactions in Brazil's history. It also unloaded an almost 11 billion-real stake in mining company Vale through two block trades, one in August and one in November.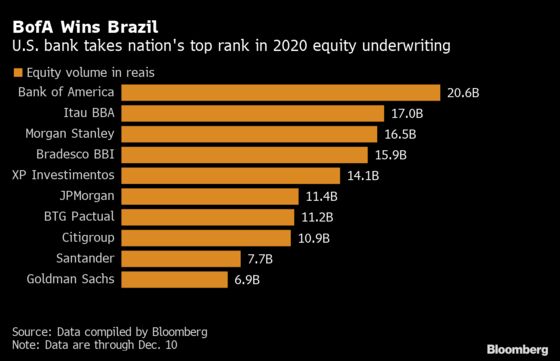 Despite the equity bonanza, fees for the investment-banking industry, including merger-and-acquisition advising and debt underwriting, are likely to end the year almost 14% below 2019 in dollar terms, according to Dealogic. A combination of lower M&A volume and a roughly 20% plunge in the Brazilian real are to blame, he said.
Also helping drive up business in 2021 will be inflows from offshore investors buying Brazilian stocks. Foreigners pumped $6.4 billion into the nation's equity markets in November, according to local exchange data, the highest monthly figure since at least 2008.
"In the last quarter, we've seen an increase in global investments in Brazil, especially in the larger equity transactions," Lin said.