Boeing Writes Off $318 Million Amid Air Force One Supplier Feud
(Bloomberg) -- Boeing Co. took a $318 million accounting hit in the first quarter linked in part to a feud with a supplier over work on the luxurious, bespoke cabins of the next Air Force One jets that transport U.S. presidents.
The pretax charge is tied to a contract with the Air Force to build replacements for the aircraft was "largely due to Covid-19 impacts and performance issues at a key supplier," Boeing said in a statement Wednesday as it reported financial results.
While Boeing didn't name the company, the planemaker and supplier GDC Technics have been embroiled in a dispute over the program. GDC is Boeing's subcontractor for the installation of Air Force One's custom interiors, and performs maintenance on the current fleet of presidential jets. GDC filed for Chapter 11 bankruptcy protection this week in federal court in San Antonio.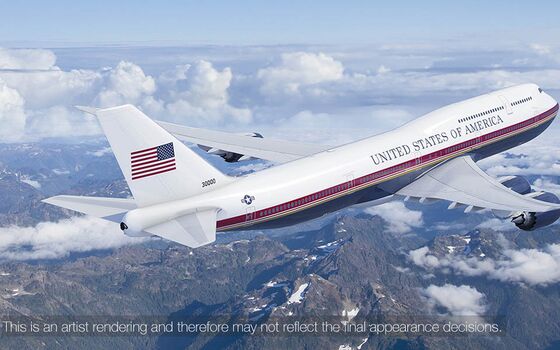 Boeing sued GDC earlier this month, saying the Fort Worth, Texas-based supplier was insolvent and running about a year behind schedule in refurbishing the two 747-8 jumbo jets destined to replace the existing Air Force One planes. GDC then countersued, blaming Boeing's own mismanagement for the delays and the subcontractor's financial woes.
It's still possible for the Air Force One program to meet its schedule, Boeing has said, as it took some of the work in-house and lined up other contractors. The Chicago-based company won a $3.9 billion contract in 2018, negotiated by former President Donald Trump, for the program, formally known by the designation VC-25B.