Boeing's 777X Charge, 787 Woes Make Max the Key to Turnaround
(Bloomberg) -- Boeing Co.'s turnaround is riding on the slender wings of its 737 Max after its newest jetliner was delayed by another year and manufacturing defects hobbled deliveries of the marquee 787 Dreamliner.

The company recorded a $6.5 billion charge as it pushed back the first delivery of the behemoth 777X variant to late 2023 -- three years behind the initial schedule. Boeing logged a total of $8.3 billion in writedowns for the fourth quarter, including charges for its services decision and a glitch-riddled military tanker, closing out one of the worst years in its century-long history.
"I'm sure glad 2020 is in the rear-view mirror," Boeing Chief Executive Officer Dave Calhoun said in an interview on CNBC after the company reported earnings.
Boeing's effort to work its way out of a grinding slump will depend to a significant extent on hundreds of newly built Max aircraft that were sitting in storage at year's end after the longest jetliner grounding in U.S. history. As problems loom across much of its product portfolio, Boeing desperately needs cash from deliveries of the single-aisle workhorses, which were assembled during a 20-month flying ban after two fatal crashes.
More than 40 Max planes have been handed over to customers since U.S. regulators cleared the model to resume flying late last year, leaving about 410 of the jets in the company's inventory. Boeing has another 80 Dreamliners stashed while it works with engineers and suppliers to address tiny structural imperfections, and that number may grow. The manufacturer is counting on handovers of both jets to help it stop burning cash by next year.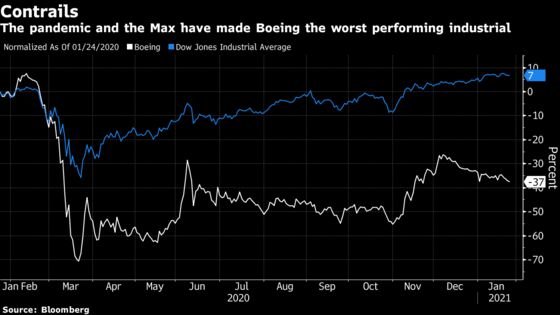 "Things are getting better on the Max while other programs get worse," said Robert Spingarn, an analyst with Credit Suisse Group AG. "That's why this is a year of recovery."
Boeing fell 4.4% to $193.20 at 3:26 p.m. in New York amid a broad market slump. Boeing's stock tumbled 37% during the 12 months through Tuesday, the worst performance on the Dow Jones Industrial Average.
"It's hard to see much upside here," Citigroup Inc. analyst Jonathan Raviv said in a note to clients. The results are a "reminder that the Covid impacts are long-lasting and reflect the reality that aero is 'lower-for-longer.'"
Still, the hit to Boeing's results could have been worse. It didn't take a writedown for the Dreamliner, as some analysts expected. But Chief Financial Officer Greg Smith acknowledged that the possibility still looms, given cuts to the wide-body's output and the undelivered planes stacking up at Boeing factories and in the California desert.
The prospect of a Dreamliner charge plus the 777X writedown "highlights the degree to which the 737 Max will be almost the sole contributor" to benchmark earnings for the commercial aviation division, JPMorgan Chase & Co. analyst Seth Seifman said in a note to clients.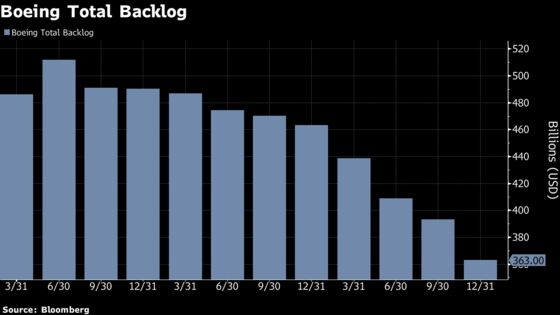 The planemaker declined to provide financial guidance for 2021, a contrast with suppliers such as General Electric Co. and Raytheon Technologies Corp., which offered forecasts when they reported earnings Tuesday. But Boeing said it expects operating cash flow to improve this year as it speeds up Max and Dreamliner deliveries.
Boeing's hasn't delivered any Dreamliners since October, and Calhoun said that shipments would eventually resume with a few hand-overs next month. In fact, the planemaker shipped just 157 jetliners last year, the lowest total in decades, while European rival Airbus SE delivered 566 planes.
The Chicago-based company burned through $4.27 billion in the fourth quarter, more than the $4 billion average of analyst estimates compiled by Bloomberg. Sales fell 15% to $15.3 billion, slightly better than expected. Boeing posted an adjusted loss of $15.25 a share in the fourth quarter, or $8.38 billion. The comparable number for the whole year was $14.2 billion.
The 777X delay adds a new drag on results as demand languishes for twin-aisle planes built for transoceanic travel, a market that's been crippled by Covid-19. Designed as the heir to the 747 jumbo, the updated 777 features wings so long that they have hinged tips that can flip upward to make room as it taxis near airport terminals.
Boeing plans to redesign some "actuator-control electronics" on the 777X, Calhoun said on an earnings call, as it faces lengthy scrutiny by regulators in the U.S., Europe and elsewhere following the 737 Max tragedies. The delay and plans to build initial models at a slow pace forced Boeing to a record a forward loss and take the accounting charge under its program accounting rules.
Over the longer term, "we think it's going to be one of the real money-makers for our company," Calhoun told CNBC.
Until that happens, Boeing's course has been complicated by lengthy delays in Max deliveries that have given customers more clout to scrap or renegotiate deals. Performance shortfalls that have bedeviled key programs, like the military KC-46 aerial tanker, sting as well.
"There's still some wood to chop at Boeing," said Spingarn of Credit Suisse. "They'll get through it, but in the meantime it's messy."