Boeing Shops $10 Billion Loan at Price Similar to Older Debt
(Bloomberg) -- Boeing Co. is marketing its new $10 billion loan deal with pricing in line with the company's existing credit lines, according to people familiar with the matter.
The loan, which would help the U.S. planemaker ease its growing financial strain, will have a margin of 100 basis points over the London interbank offered rate, the people said. Boeing will pay a 9 basis point ticking fee while it doesn't draw the money, the people added. The debt will mature in two years and be structured as a delayed-draw term loan, which allows Boeing to access the funds at a later date, Bloomberg previously reported. Citigroup Inc. is leading the deal.
This pricing is in line with the planemaker's most recent $9.5b revolving credit facilities signed in October. At Boeing's current rating of A3 by Moody's Investors Service and A- at S&P Global Ratings, the revolver costs 100 basis points over Libor if the company taps the credit line or requires a nine basis point facility fee if Boeing doesn't. Both Moody's and S&P are considering downgrading the company, which would knock it into the lowest tier of investment-grade rankings and raise its borrowing costs.
Representatives from Citi and Boeing declined to comment.
The company is marketing the loan as it weighs another cut to production of its marquee 787 Dreamliner amid sluggish demand for its twin-aisle jet. The new loan is expected to wrap up this week, said the people. The lender group is expected to be smaller than that on its revolving facilities, they added. Around 35 lenders participated in Boeing's existing credit lines.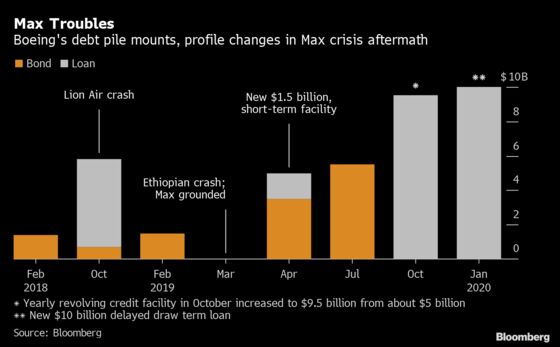 The $10 billion size of the new loan may increase if participation interest from banks exceeds the target size, the people said. Boeing has already borrowed $21.5 billion of new debt since the crash of its first Max planes in Indonesia in October 2018.
The fresh funding comes as Boeing contends with reimbursing customers, keeping suppliers afloat and maintaining about 400 newly built Max that it can't deliver until global regulators clear the jet to fly. A production halt taking hold this month on the Max, which has been grounded since March, is a sign that its emergence from the crisis will be lengthy.