Boeing Plans Starliner Test Flight in May After Module Change
(Bloomberg) -- Boeing Co. plans to launch the Starliner on an unmanned test flight to the International Space Station in May after an investigation of faulty valves led the company to swap out service modules on the spacecraft.
Under the latest plans, the module originally slated to be used in a future crewed mission will be moved up for the test flight, according to a statement Monday.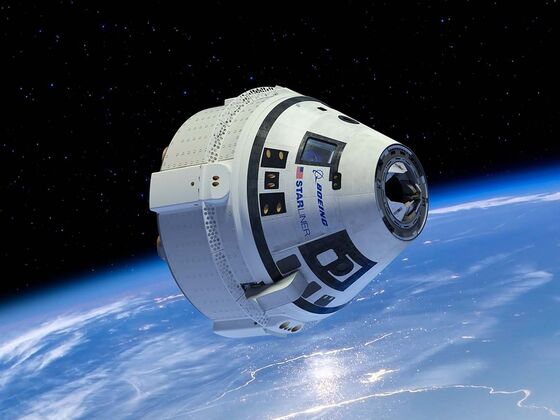 Boeing had planned to launch its CST-100 Starliner in August for a second unmanned demonstration trip to the ISS following a botched flight in December 2019. Several malfunctioning valves on the expendable service module forced a cancellation and a deep review of the system.
"NASA has been working side-by-side with Boeing on the service module valve investigation" to understand the causes of the problem, Steve Stich, manager of NASA's Commercial Crew Program, said in the statement. "Because of the combined work, we have a much better understanding of the contributors that led to the valve issues, and ways to prevent it from happening in the future."
NASA officials had previously said that switching the No. 2 service module on the CST-100 Starliner to No. 4 could be one option to move forward with the test program. The No. 3 service module in the series is for the test flight with astronauts, which NASA has tentatively set for late 2022.
A May launch window is subject to several conditions, including the station being ready for the craft's arrival, United Launch Alliance being able to accommodate that schedule, range officials allowing the launch and the vehicle passing launch reviews.
The Starliner reaches orbit aboard an Atlas V rocket, produced by ULA, a joint venture of Boeing and Lockheed Martin Corp. Boeing and SpaceX were the winning bidders in NASA's commercial crew program to provide commercial ferry services to and from the space station.