Boeing Is the Big Exception to Earnings Gloom
(Bloomberg Opinion) -- Boeing Co. is a bright spot in a rough week for industrial earnings.
The planemaker reported better-than-expected third-quarter results on Wednesday morning, and raised its guidance for 2018 adjusted profit. Boeing also maintained its goal of delivering 810 to 815 commercial airplanes this year, easing pre-earnings jitters over a relatively weak shipping rate in the third quarter. That should provide confidence that bottlenecks in its supply chain won't do too much damage to the production boom that's key to Boeing's cash-flow aspirations. The company reported $4.1 billion in third-quarter free cash flow, handily surpassing analysts' estimates.

Boeing's ability to find new ways to impress investors is striking, especially after such a long run of outperformance and a steady climb in expectations, and the shares surged more than 3 percent in early trading in New York. Compare that to the 7.6 percent plunge at construction and mining equipment maker Caterpillar Inc. after the release of its results Tuesday. Both companies have tended to trade as proxies for the escalating trade war between the U.S. and China. But while Caterpillar was docked for failing to raise its guidance as rising raw-material, freight and interest costs blunt earnings expansion, there were few trade-war scaries in Boeing's report.
The company didn't mention the words "trade", "China" or "tariffs" in its press release; "raw materials" appears only in the risk section. Boeing actually raised expectations for the operating margin at its commercial-aircraft division to a range of 12 percent to 12.5 percent, up from a target of greater than 11.5 percent, to reflect profitability improvements for its 787 Dreamliner. While Boeing's defense and space unit swung to an operating loss in the quarter, prompting a tempering of Boeing's full-year margin outlook there, that primarily reflects an anticipated ramp up in costs after recent contract wins with the U.S. Air Force and Navy. 
I expect the trade war will still be a hot-button topic among Boeing analysts and investors. China's retaliatory trade steps thus far seem carefully crafted to avoid hitting Boeing too hard, in part because doing so could backfire on its biggest airlines. The bigger risk may be a blossoming relationship between China and rival Airbus SE. China has revived discussions with Airbus on an $18 billion order for A320neo narrow-body jets, while Xiamen Airlines, an exclusive Boeing customer for more than 30 years, is exploring a plane order with Airbus.
Even if Boeing manages to avoid getting directly caught in the trade-war crosshairs, there are a number of knock-on effects that could imperil its dizzying climb. One that I've wondered about is the impact of supply-chain changes as companies seek workarounds on the tariffs. Inevitably, relocating to different geographies is going to create extra costs and disruption. That's something Boeing can ill afford with its suppliers already struggling to meet record production rates. Rising oil prices risk cooling air-travel demand as airlines raise fares to offset the added fuel costs. A trade war-induced recession is another potential hazard.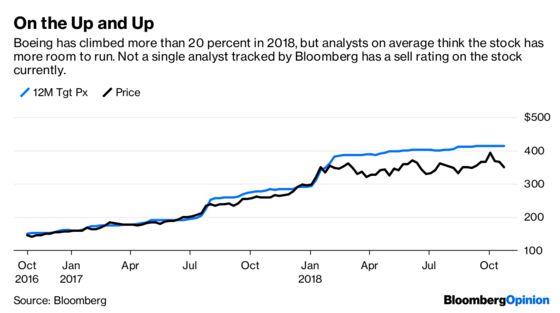 But for now, Boeing is flying high. Its blockbuster report echoes strong numbers for
Honeywell International Inc.
and
United Technologies Corp.'s
aerospace businesses. Honeywell reported a 10 percent boost in aerospace revenue excluding the impact of currency swings and M&A in the third quarter, while United Technologies' Pratt & Whitney jet engine division saw 13 percent organic growth and its aerospace systems unit delivered a 9 percent increase. 
Aerospace and defense seems to be one of the few places to hide amid the recent bloodbath in industrial stocks. For now. 
This column does not necessarily reflect the opinion of the editorial board or Bloomberg LP and its owners.
Brooke Sutherland is a Bloomberg Opinion columnist covering deals and industrial companies. She previously wrote an M&A column for Bloomberg News.