Boeing 737 Deliveries Tumble to Lowest Since 2012 on Factory Jam
(Bloomberg) -- Boeing Co. delivered only 29 single-aisle jetliners last month, the lowest tally since January 2012, as the planemaker dealt with supplier constraints that left dozens of unfinished 737 aircraft parked around a Seattle-area factory.
The manufacturer recorded just 39 total commercial-jet deliveries last month, down from 82 in June, according to data posted on the company's website Tuesday. While it's not unusual for jet shipments to vary from month to month, Boeing's slow July raises concern about its biggest source of profit -- the 737 family -- as engine makers struggle to hit record output targets.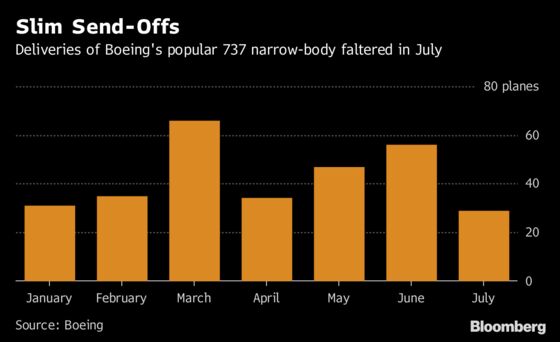 Supplier shortfalls are hampering Boeing and Airbus SE as the manufacturers ramp up output of their single-aisle jets, workhorses of budget carriers worldwide, to dizzying heights. Airbus stored as many as 100 of its A320neo family aircraft earlier this year after one of its engine makers, United Technologies Corp.'s Pratt & Whitney, briefly halted production.
Work was disrupted at Boeing's 737 factory as the Chicago-based manufacturer sped output to a record pace in June while dealing with supplier shortages, including engines arriving about a month late from CFM International, a joint venture of General Electric Co. and Safran SA. A surge of airframes also arrived out-of-sequence as Spirit AeroSystems Holdings Inc. rushed to get back on track after encountering its own supplier delays.
Boeing rose less than 1 percent to $338.91 at 2:29 p.m. in New York. The shares climbed 15 percent this year through Monday, compared with the 5.5 percent advance of the S&P 500 Index.
About 50 aircraft were stowed in nooks and crannies around Boeing's Renton factory and an adjacent airfield last week, crowding the compass rose used to calibrate navigation equipment, said Chris Edwards, a blogger and photographer who tracks 737 production. He counted 17 so-called "gliders" -- aircraft lacking engines.
Boeing has brought in mechanics from around the Puget Sound region, including its factories in Everett, Auburn and Frederickson, to help ease the logjam, said Connie Kelliher, a spokeswoman for the Machinists union.
They are starting to "burn off jobs," Boeing parlance for installing late-arriving parts and completing the work needed to make the planes ready for delivery, Chief Financial Officer Greg Smith said last week. He predicted that Boeing's third-quarter 737 deliveries would fall short of factory output in the third quarter, before rebounding in the final quarter.
"Each one of those suppliers is getting more on track, but days matter, when you're at 52 a month, a day matters," Smith said. "And you don't have a lot of margin for error there."
While Boeing has delivered fewer of the 737 than it produced during the first two quarters of 2018, the planemaker so far has managed to shield customers from lengthy waits. Air Lease Corp. is seeing delays of a month or less, John Plueger, the aircraft lessor's chief executive officer, told analysts last week.
Boeing netted orders for 27 aircraft last month for a total of 487 for the year. Airbus earlier booked an order for eight new A350 jetliners in July. The companies, combined, unveiled deals for 959 aircraft valued at $141 billion based on list prices at the U.K.'s Farnborough air show during the month.