Boeing Extends Push for Deeper China Ties 
(Bloomberg) -- Boeing Co. is stepping up efforts to bolster its ties with China as President Donald Trump's trade fight threatens to give rival Airbus SE an edge in the world's second-biggest aviation market.
In one sign of potential trouble, a Chinese airline that's been an exclusive operator of Boeing jets for more than 30 years is said to be in talks with Airbus for a potential order. As tensions escalate between Washington and Beijing, the Chicago-based aerospace giant just has to focus on what it can control, Randy Tinseth, Boeing's vice president for marketing, said in an interview Friday.
"We're in that place where we're talking to both sides," Tinseth said on the sidelines of an aviation conference in Jeju, South Korea, referring to China and the U.S. "We're telling our story of fair and free trade and how important that is. We're working closely with our customers and continue to deliver a lot of airplanes to our Chinese customers."
Though China has -- for now -- spared passenger planes from its tariff hit list, Trump's threat to tax everything the country exports to the U.S. risks triggering a similar reaction from Beijing. China also has other potential countermeasures at hand, such as favoring Airbus over Boeing for future aircraft orders. On track to surpass the U.S. as the world's biggest air market by as early as 2022, China is crucial for both planemakers as they battle for dominance.
At stake for Boeing is a market that it predicts will need more than 7,600 new aircraft worth over $1.2 trillion in the 20 years through 2037, 6 percent more than from last year's projection.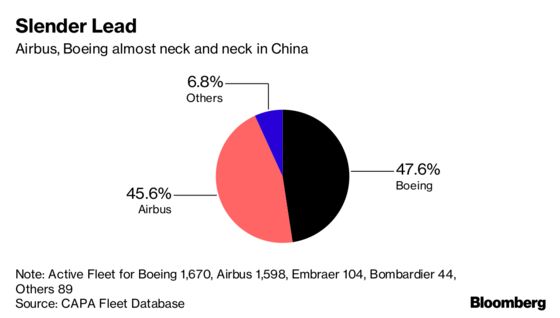 Executives at Xiamen Airlines, which is majority-owned by state-run China Southern Airlines Co., met with a high-powered Airbus delegation visiting China from Europe last month to advance the negotiations, people familiar with the matter said, asking not to be identified because the process isn't public.
Xiamen, a launch customer for Boeing's 737 Max 10, is predominantly interested in the longer-range version of Airbus's rival A321neo planes, they said, though the talks are still at an early stage and the size of a potential order hasn't been set. The airline, based in China's southeast, currently doesn't have plans to buy Airbus planes, a spokeswoman said.
Tinseth called the carrier "a great customer."
China accounted for about 13 percent of Boeing's revenue last year and is the largest market for the 737, the company's biggest source of profit. Boeing delivered 202 aircraft to Chinese airlines in 2017, compared with 176 by Airbus.
As an example of Boeing's deeper engagement with China, Tinseth said a planned completion center in Zhoushan is on course to open in December. The facility, in partnership with state-owned Commercial Aircraft Corp. of China Ltd., employs local workers to paint and finish the interiors of single-aisle 737 planes, in order to speed deliveries to Chinese airlines.
"We're opening that in December, it hasn't changed," Tinseth said.
Boeing has offered its 777X aircraft to Qantas Airways Ltd., the carrier that has proposed a service connecting Australia's eastern seaboard with cities like London or New York, a route that would take about 20 hours. Qantas Chief Executive Officer Alan Joyce, who calls it Project Sunrise, has challenged both the planemakers to design a plane that would meet his demands.
"Now what they're asking is a challenge, and it's a big challenge," Tinseth said. "Whatever we do and whatever our customers want, we have to make sure they can do it with the type of configuration that gives them the amenities but also carrying enough passengers to make money. "
Project Sunrise involves equipping an aircraft that can fly about 300 passengers and their luggage farther than any regular service to date, with fuel in hand for unexpected headwinds and emergencies.
If the first routes prove viable in 2022, direct connections from major cities in the Americas, Europe and Africa to Australia could follow. Qantas is sizing up the long-range Airbus A350 against Boeing's 777X and Joyce has said he plans to place an order next year.