Boeing 757 Crash in Guyana Injures Six Passengers: AFP
(Bloomberg) -- A Fly Jamaica Airways Boeing Co. jet en route to Toronto crash landed after returning to Guyana with a fault. Six people are reported injured and pictures show substantial damage to the starboard wing and engine.
Fly Jamaica Flight 256 headed back to the Guyanan capital Georgetown because of a technical problem, the airline said in a statement on its website, adding that all 118 passengers and 8 crew members are safe.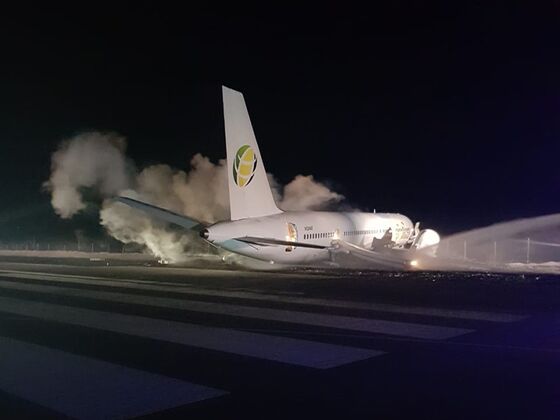 The aircraft, a Boeing 757-200 according Flightradar 24, was bound for Canada when it suffered a hydraulic issue after take-off, AFP reported, citing Guyana's infrastructure minister, David Patterson. The twin-engine jet skidded off the runway, injuring half a dozen people, according to the report.
The plane is a much older model than the Boeing 737 Max operated by Indonesia's Lion Air that nosedived into the Java Sea last month, killing 189 passengers and crew.
Boeing delivered the final 757 in 2005 after more than two decades of production that saw the longest-ever single-aisle airliner become a mainstay of trans-Atlantic routes and cross-continental flights in the U.S.
The model is still in operation with some major carriers due to the lack of a natural successor -- something Boeing may address with its plan for a new mid-market plane also dubbed the 797. At the same time, older examples are increasingly found with carriers in emerging markets.
The aircraft involved in the Guyana incident is 19 years old, according to information from Airfleets.Net, based on the registration number given by Flightradar 24. It previously flew with airlines including American Trans Air and Thomas Cook, and has been with Fly Jamaica for about five years.