John Boehner-Advised Pot Company Latest to List on Canadian Exchange
(Bloomberg) -- Three more U.S. cannabis companies are heading to a Canadian stock exchange via reverse takeovers, including one that counts John Boehner as an adviser.
Acreage Holdings, which has cultivation, processing and dispensing operations across 14 states, is looking to raise $200 million through a private placement alongside the RTO that would value the company at between $2 billion to $2.5 billion, according to people familiar with the matter. The company plans to list on the Canadian Securities Exchange via a reverse takeover of Applied Inventions Management Corp. The former speaker of the U.S. House of Representatives sits on the New York-based company's Board of Advisers.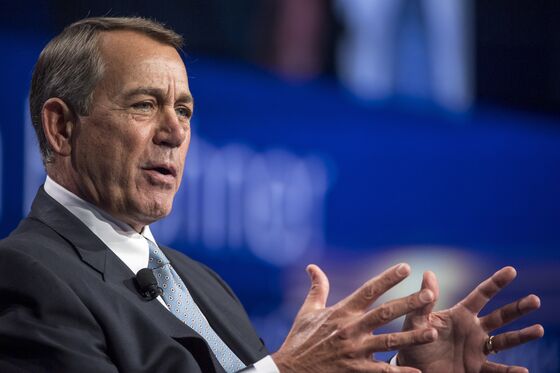 Curaleaf Inc., a pot grower and seller with operations in 12 states, is also seeking to raise at least $350 million through a private placement that will value the company at about $4 billion, the people said. It plans to list on the CSE through a reverse takeover of Lead Ventures Inc.
Representatives for both Acreage and Curaleaf declined to comment.
And Chicago-based Cresco Labs LLC said Wednesday that it will list on the CSE via a reverse takeover of Randsburg International Gold Corp. Cresco recently completed a private placement for gross proceeds of $100 million, led by Beacon Securities.
The CSE has become the go-to listing spot for cannabis companies with U.S. operations, where marijuana is still illegal at the national level, as the big New York exchanges and the Toronto Stock Exchange don't allow listings by companies that are violating federal law in the jurisdiction where they operate.
Reverse takeovers don't require a full securities commission review and dispense with prospectuses vetted by regulators. They're usually considered cheaper and faster than an initial public offering, and are widely used in the cannabis industry.