BOE Warns Disorderly Brexit May Halve Commercial-Property Prices
(Bloomberg) -- A disorderly Brexit could cause U.K. commercial-property prices to fall by even more than after the global financial crisis, the Bank of England warned.
Price of offices, warehouses, malls and hotels could drop as much as 48 percent if the U.K. crashes out of Europe without a deal, more than the 42 percent peak-to-trough decline following the 2008 global crisis, the Bank of England said in its Financial Stability Report. In a "disruptive" Brexit, the slide would be limited to 27 percent, the central bank said.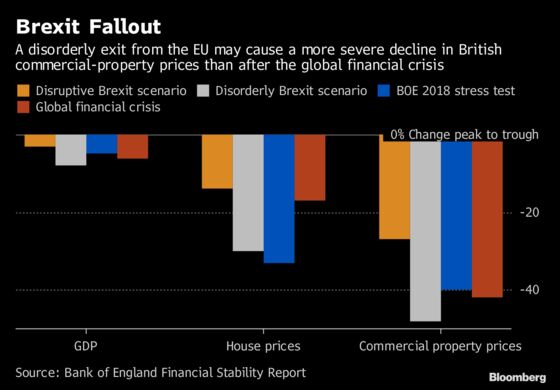 Prices for the best U.K. commercial real estate have so far mostly shrugged off the 2016 vote to leave the European Union after the weaker pound made Britain cheaper than markets such as France and Germany. The prospect of a drop in prices, coupled with the effects of a further slide in the currency if the U.K. does crash out of the bloc without a deal, could make the nation's 833 billion-pound ($1.1 trillion) commercial-property market an even better bargain.
The housing market could be hit, too.
Shares of U.K. homebuilders have tumbled since mid-September, when BOE Governor Mark Carney warned that house prices could plunge by as much as 35 percent in a worst-case scenario following a chaotic no-deal Brexit. On Wednesday, the BOE scaled back that estimate to a maximum 30 percent. That's still nearly twice the 17 percent decline after the financial crisis.
Soaring home prices led Carney to call the housing market the No.1 risk to the U.K. economy back in 2014. While Brexit, new mortgage regulations and stamp-duty hikes have all cooled the decade-long property boom, London home values are still up 84 percent from their 2009 levels.