BNP Plans $1 Billion Buyback as Equities, Domestic Unit Beat
(Bloomberg) -- BNP Paribas SA will start a 900 million-euro ($1 billion) stock buyback after posting a 79% jump in equities trading and adding twice as much revenue as expected at its domestic markets unit. 
Strength in the two businesses helped offset a slump in fixed income trading that was twice as steep as the average decline at the biggest Wall Street banks. Net income beat analysts' estimates, in part because BNP set aside less money than expected for bad loans.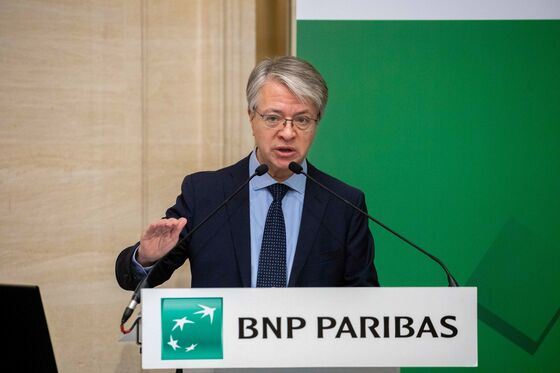 The Paris-based lender is weighing an increase in shareholder returns as part of a new strategic plan, after the European Central Bank lifted its de facto ban on dividends in the pandemic, Bloomberg reported this month. BNP, which makes roughly equal amounts from its investment bank, its core markets retail operations and its international activities, benefited in the third quarter as an economic recovery kept defaults at bay, allowing it to release some provisions.
BNP Paribas said it expects strong growth in overall revenue this year as companies and individuals becoming more positive about the economy.
"People feel that the rebound of the pandemic is behind us and now we are capturing the growth going forward," Chief Financial Officer Lars Machenil said on Bloomberg TV on Friday. "We see that there is a lot of lending going on, and not necessarily for working capital, but particularly for investments."
| Key figures (in million euros) | 3Q21 | 3Q20 | YoY  | Estimate |
| --- | --- | --- | --- | --- |
| Net revenue | 11,398 | 10,885 | +4.7% | 11,136 |
| Provisions | 706 | 1,245 | -43% | 972.8 |
| Net income | 2,503 | 1,894 | 32% | 2,252 |
| Domestic Markets revenue | 3,976 | 3,735 | +6.4% | 3,836 |
| International Financial Services revenue | 3,823 | 3,943 | -3% | 3,953 |
| Corporate and Institutional Banking revenue | 3,588 | 3,372 | +6.4% | 3,316 |
BNP benefited more than peers from a surge in equities trading in the third quarter. The biggest U.S. firms reported average increases of 35%, while Switzerland's UBS Group AG saw a gain of 24%. Bonnafe has been building up the business with hedge fund clients and is betting stronger collaboration between the investment bank's different units. Revenue from fixed income trading fell 28%, compared with 13% at the U.S. peers. 
The domestic markets unit, which includes BNP's retail businesses in its core markets, got a boost from higher fees and sales growth at its specialized businesses such as car leasing subsidiary Arval. Revenue from International Financial Services declined, in part because of lower contributions from the insurance and personal finance businesses.
Shares of BNP rose 0.4% at 9:39 a.m. in Paris trading, as investors weighed the various beats and misses, as well as the impact of higher expenses. Operating costs increased by 3.8% from a year earlier, reflecting investments and what the bank called business development.
What Bloomberg Intelligence Says

Cost inflation and a lack of discipline are growing concerns for the European banking sector and BNP's 3Q miss on expenses, admittedly supported by a revenue beat, as well as very weak FICC trading are concerns. A $1 billion buyback and very strong equities accompany decent 3Q results, but the market will likely struggle with the expense overrun.

-- Jonathan Tyce, BI banking analyst
The buyback announced on Friday is scheduled to start Nov. 1 and be completed no later than Feb. 8. That's the month BNP is set to unveil its new strategic plan for the 2022-2025 period. Chief Executive Officer Jean-Laurent Bonnafe signaled at a meeting last month that the bank could consider higher returns and buybacks, without giving any figures. 
The bank is exploring scenarios including raising its payout ratio to 60% of annual profit next year, from 50% in 2021, people familiar with the plans have said. A share buyback element is included in the scenarios being considered, the people said.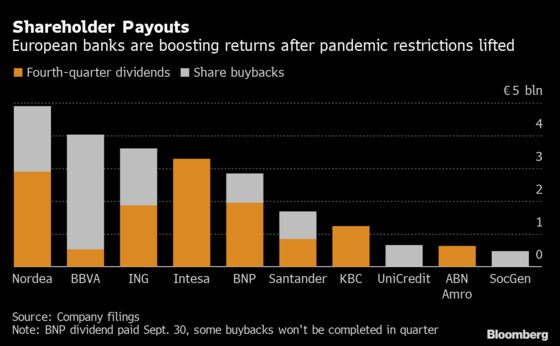 BNP joins rivals including Deutsche Bank AG and UniCredit SpA seeing the benefit from lower provisions as the economy improves. Spain's BBVA also on Friday announced that it is starting a 3.5 billion-euro buyback program.