BNP Paribas Is Said to Have Reviewed EuroMillions Trade Boast
(Bloomberg) -- For the couple in Northern Ireland who won the EuroMillions lottery on New Year's Day, the foreign exchange rate might have seemed like a rounding error on their 130 million euros ($150 million) prize.
But at BNP Paribas SA, the bank that was hired to convert the jackpot into sterling for the U.K. ticket holders, the straightforward currency translation has attracted an unusual amount of attention as banks seek to combat the perception that they earn unfairly high fees.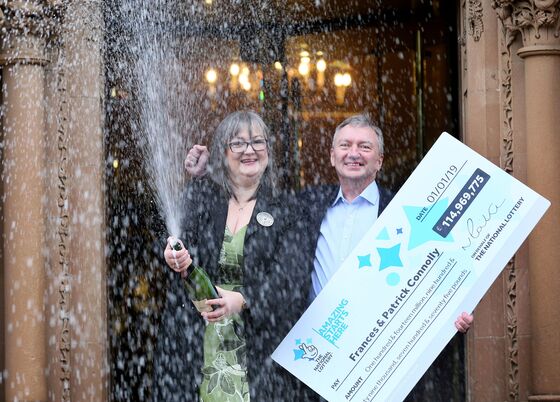 The lender has reviewed whether a salesperson made inappropriate comments about the fees it earned from working on the transaction, said people familiar with the matter. BNP Paribas earned about 1 million pounds from the EuroMillions transaction, the people said, declining to be identified as the details are private.
It examined electronic communication on whether the employee bragged to others about how much it made on the deal, the person said, adding the fee is unusually high. The bank found no wrongdoing, one of the people said. A spokesman for BNP Paribas declined to comment.
A series of scandals has prompted the financial services industry to clamp down on any behavior that could be seen as inappropriate -- no matter how seemingly minor. At the other end of the spectrum, the past few years have brought multi-billion dollar fines for firms involved in manipulating interest-rate benchmarks and failure to comply with sanctions.
Some bankers say they avoid meeting socially to prevent the appearance of collusion. Many say inappropriate jokes, especially those that could put firms at risk of regulatory scrutiny, are frowned upon.
BNP Paribas was contracted by EuroMillions to conduct the conversion for its Christmas Day and New Year's Day draws in the event that a winner came from the U.K., which is one of two countries in the nine-country lottery that is not a member of the single currency, another person said.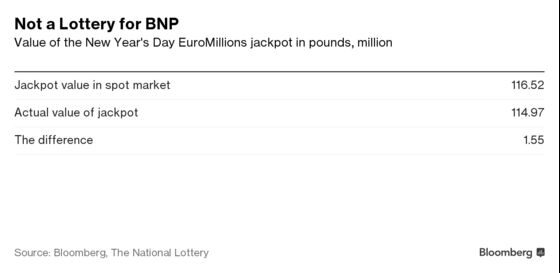 EuroMillions guarantees to convert any winning jackpot into pounds or Swiss francs on the day of a draw using the exchange rate at the time. On days when major financial markets are closed, such as Christmas Day and New Year's Day, Camelot Group, the operator of the U.K. National Lottery, agrees a rate with a bank in advance so that it can announce the sterling value of the main prize draw.
A spokeswoman for Camelot Group said it uses a panel of banks to conduct the currency transactions, but declined to comment on BNP Paribas.