BMW's Battered Shares Perk Up on Ambitious Electric-Car Roadmap
BMW AG added its plans to a slew of carmaker news on how to brace for the electric era that risks being dominated by the likes of Tesla Inc. Its shares rose to a near three-year high.
The Munich-based company forecast battery-car sales to account for about half of deliveries by the end of the decade and make its Mini brand completely electric, a day after Volkswagen AG's unloved stock ignited on splashy back-to-back announcements for batteries and big EV ambitions. BMW also forecast a strong recovery in returns from automaking this year.
"We have a clear road map for making the transformation of our industry and a real competitive advantage for BMW in the coming years," company Chief Executive Officer Oliver Zipse said.
Stay on top of the electric car revolution by signing up for our upcoming Hyperdrive newsletter here.
While carmakers' revamp efforts have been jolted by the pandemic, they're accelerating the shift to become efficient EV-making operations with greater software capabilities. VW this week detailed how it'll become a $29 billion battery-cell making juggernaut, as well as automaker. Volvo Cars and General Motors Co. have set dates to go fully electric, while Daimler AG is spinning off its trucks unit after a century of making commercial vehicles and cars.
BMW on Wednesday pointed to a similar watershed moment, billing its new electric-focused platform that's due to underpin vehicles from 2025 as the basis for a "New Class" of cars. The reference is reminiscent of a range of models made in the 1960s that transformed the manufacturer's product range.
The cars will be built to recycle as much material as possible for use in new vehicles, and boost revenues from drivers booking digital features, BMW said. The platform will deliver returns on par with combustion-engine models, and BMW isn't looking to partner with other manufacturers to improve economies of scale.
"We are intent on ensuring that the 'greenest' electric car on the market is made by BMW," Zipse said.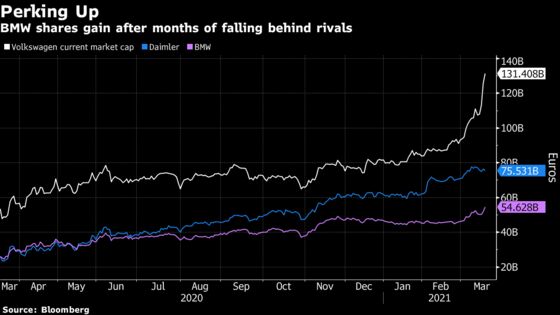 BMW rose as much as 5.5% to a near-three year high after the carmaker said returns from automaking are set to more than double this year to between 6% and 8%. Automakers are benefiting from a sudden turnabout in sentiment, after watching Tesla vault past by a wide margin last year to become the world's most valuable auto company.
The stock gains are "a first step" to a more reasonable valuation, Zipse said in an interview with Bloomberg Television.
While BMW has lost its early-mover advantage from 2013's i3 electric city car, "the expansion of its EV offering should allow the company to catch up with Tesla," NordLB analyst Frank Schwope said in a note.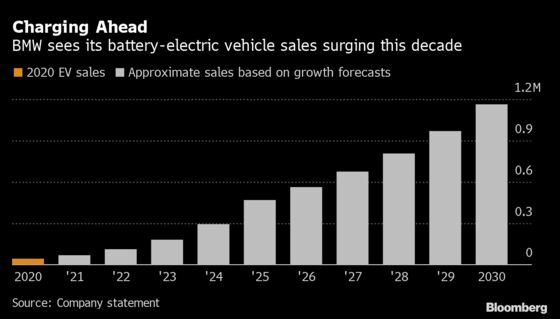 BMW may have 2 million electric vehicles on the road by 2025, rising to 10 million by 2030 for at least half of global deliveries. BMW previously said it expects 20% of sales to be battery or plug-in hybrid vehicles by 2023.
The automaker has come through last year's health crisis better than expected and so far has dodged a global semiconductor shortage. While the supply constraints were a risk, BMW expects its suppliers to deliver sufficient number of chips, Chief Financial Officer Nicolas Peter said.
BMW's group profit before tax will be significantly higher, based on a "solid" rise in deliveries, BMW said in a statement, after pretax profit slumped 35% to 4.8 billion euros last year as the pandemic shook the industry.
The company unveiled its i4 electric sedan on Wednesday and will install a new operating system in the battery-powered iX SUV with a plan to have the world's biggest car fleet enabled for over-the-air software upgrades by the end of the year.