BMW Sees Profit Improving as Recovery Tailwinds Continue
(Bloomberg) -- BMW AG expects profit to rise this year, building on positive momentum from late last year when sales recovered in key regions.
Pent-up demand during the second half of last year helped boost profitability, BMW said Thursday in a statement. Pretax profit for the year still fell 35% to 4.8 billion euros ($5.7 billion), slightly better than analysts estimated. The company proposed maintaining its dividend at 1.90 euros.
"We are looking to 2021 with confidence and aim to maintain the growth momentum of recent months," Chief Financial Officer Nicolas Peter said. The company gave little details on its outlook for the year, saving specifics for its annual conference on March 17.
BMW extended losses to fall as much as 2.1%. The stock has gained around 10% this year.
Carmakers have been more upbeat about this year, predicting more positive momentum will last. Archrival Daimler AG last month said it expects significantly higher earnings, and Volkswagen AG forecast higher margins. Their forecasts hinge on further fallout from the pandemic remaining limited, and could be dented by a global shortfall of semiconductors and higher commodity prices.
BMW's final quarter was "good" but "not as spectacular" as its German rivals' performance, Juergen Pieper, an analyst at Bankhaus Metzler said, adding "the huge momentum is on VW's and Daimler's side"
BMW's shares have lagged gains achieved by rivals that are accelerating plans to shift to electric cars or preparing for deeper changes. Daimler last month surprised investors with a move for a majority listing of its trucks business, while General Motors Co. has pledged to exit combustion car sales by 2035. Volkswagen's namesake brand this month doubled its target for electric-only car sales to 70% by the end of the decade.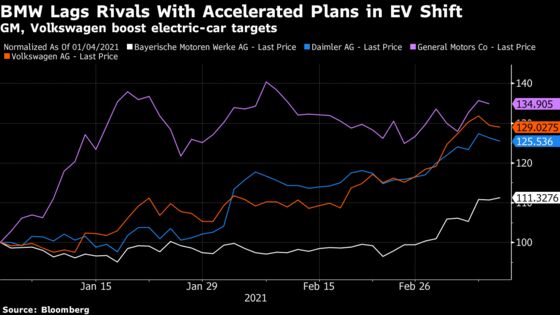 The Munich-based carmaker has, however, stuck to its strategy of building cars with hybrid, battery-only or combustion engine models. The company is expanding its pure electric offerings this year with the i4 and the iX sports utility vehicle.
BMW is well placed on electrification and alternatives to private vehicle ownership, said Peter, adding he was undaunted by Apple Inc. potentially entering the auto fray. Earlier, Chief Executive Officer Oliver Zipse predicted slowing sales growth for Tesla Inc. as established manufacturers mount counterattacks with more EV offerings.
BMW reported preliminary annual earnings in January. Its automotive margin fell to 2.7% for the year, and recovered to 7.7% during the fourth quarter.