BMW Says Tesla Ramp-Up Puts Pressure on Tough U.S. Luxury Market
(Bloomberg) -- Tesla Inc. has more than its share of headaches these days, but it's nevertheless putting the hurt on competitors in the U.S. luxury market.
That's according to rival BMW AG, whose 5 Series sedans have long been a target for the electric-car maker's ambitions. The German company, which managed a 1.3 percent gain in September on the strength of its X3 crossover, said Tesla has been intensifying competition in a shrinking market the past three to four months.
"Tesla is now ramping up their volumes, and it's putting pressure on that market segment," Bernhard Kuhnt, chief executive officer of BMW North America, said in an interview Tuesday. "In that environment, I'm very, very pleased to say we were up."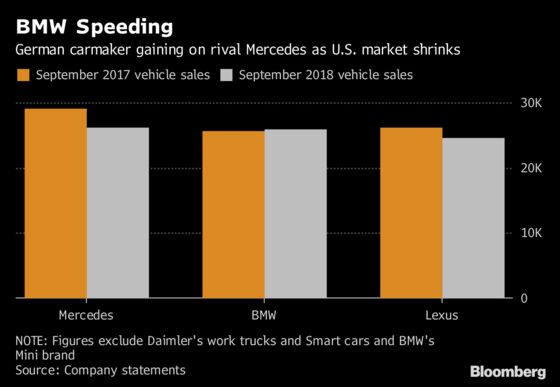 As BMW was unveiling a revamped version of its signature 3 Series sedan Tuesday at the Paris auto show, Tesla said it delivered 83,500 vehicles in the third quarter, enough to suggest it's climbing the ranks of the U.S. passenger-car market.
BMW is preparing for battle with an expanded lineup of crossovers and SUVs, including the X7, its first full-sized SUV, due out early next year. BMW's next battery-electric vehicle, the iX3, won't be ready until 2020. By then, Daimler AG and Volkswagen AG's Audi and Porsche brands should have a slate of "Tesla-killers" coming to market, but whether traditional brands can sell EVs in significant numbers remains to be seen. Jaguar plans to start delivering its electric I-Pace to U.S. customers next month.
Electric futures aside, September marked another down month for Toyota Motor Corp.'s Lexus and Daimler's Mercedes-Benz, which has held the U.S. luxury crown for the past two years.
Mercedes deliveries fell 9.8 percent as the C-Class, its top-selling sedan, plunged 24 percent, and its crossovers also sank, except for the GLC, which jumped 30 percent. It was the fourth straight month of declines for Mercedes, which now holds just a 319 unit-lead over German rival BMW through September. Lexus deliveries fell 6.1 percent.
Premium carmakers have had to remake their lineups to appease SUV-crazed shoppers in the U.S., all while fending off Tesla at the bottom and niche players like Maserati, Ferrari and Aston Martin at the high end, said Maryann Keller, an industry consultant in Stamford, Connecticut.
"You've got this niche group of exotic vehicle producers that individually don't sell many cars but collectively they're now in the top end of the luxury category," she said. "It's a very different luxury car market."