Behemoth SUV Helps BMW Extend U.S. Sales Lead Over Mercedes
(Bloomberg) -- BMW AG is starting to run roughshod over rival Daimler AG in the U.S., with the new X7 sport utility vehicle helping the German automaker pull further ahead on the sales charts.
BMW deliveries rose 1.4 percent in April, aided by the behemoth SUV's second full month of sales. Through the first four months of the year, the brand has sold 3,584 more luxury vehicles than Daimler's Mercedes-Benz, whose deliveries slumped 16 percent last month.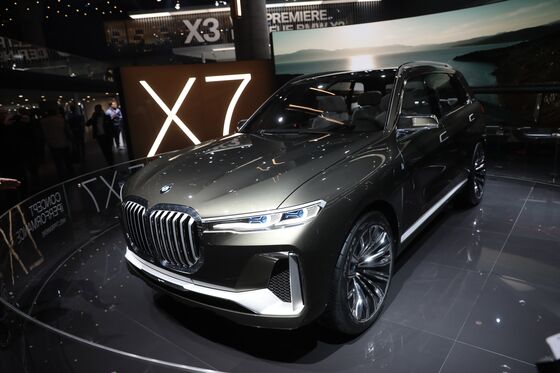 "We're right where we want to be," Bernhard Kuhnt, BMW of North America's president, said in a statement. "Demand for the BMW X7 only continues to grow."
For Mercedes, sales of C-Class and E-Class sedans slid, as did deliveries of the GLC and GLE SUVs that will be revamped later this year. Dietmar Exler, president of Mercedes' U.S. sales unit, said in a statement that model changes and supply constraints dragged on results, and that availability should improve in the coming months.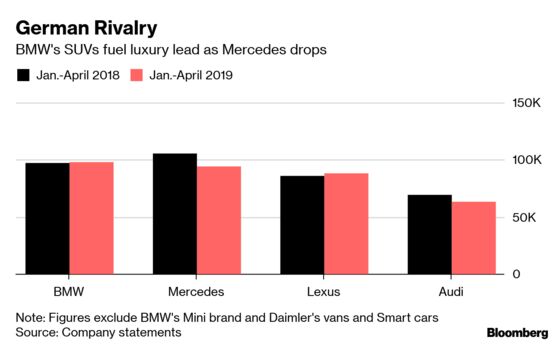 Toyota Motor Corp.'s Lexus is the top gainer among the four largest luxury brands in the U.S., with sales rising 2.7 percent through April. The new UX compact crossover and ES sedan have been buffers as deliveries of almost all other models dipped.
Sales at Volkswagen AG's Audi plunged 21 percent last month as the volume-leading Q5 SUV slumped. The brand's deliveries have fallen three out of four months this year and were down 8.7 percent through April.