BMW Rolls Out Its Three-Row SUV Monster After 10-Year Wait
(Bloomberg) -- BMW AG now has its own three-row luxury cruiser to challenge the likes of the Mercedes-Benz GLS, Cadillac Escalade and Lexus LX, and it only took the German carmaker a decade.
The Munich-based company unveiled the X7, its largest-ever sport utility vehicle, at the Los Angeles Auto Show on Wednesday. Plans for the model, which will hit dealerships in March 2019, were originally shelved in 2008, when the global financial crisis prompted BMW to rein in spending and high oil prices pushed consumers to smaller cars.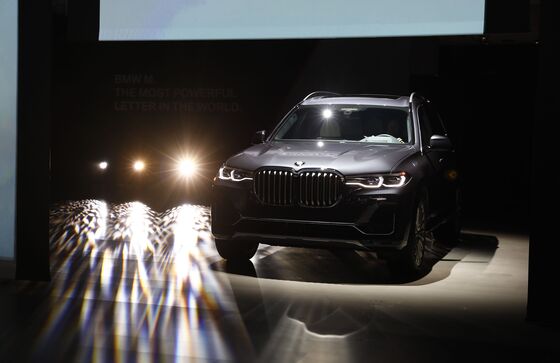 The X7 is 5.15 meters (16.9 feet) long, offers space for as many as seven passengers and can lug as much as 2,120 liters (74.9 cubic feet) of cargo. Besides its size, there's little in the way of significant innovations, as the car's main purpose is to revive BMW's flagging profit margins amid intense spending on self-driving, electric cars.
The big SUV is coming at a crucial time for BMW, fresh off a profit warning and eyeing a difficult year ahead. The company warned that effects of a price war that started in September might continue into 2019, a year already packed with the possibility of a chaotic Brexit and trade tensions. At the same time, the company needs to invest in electric vehicles, with plans to have 12 on the road by 2025.
BMW will assemble the car at its factory in Spartanburg, South Carolina That means exports could get caught up in Donald Trump's trade war with China, the world's largest car market.
"If there's a problem with China, it's a problem for the X7," said Tim Urquhart, an analyst at forecaster IHS Markit. "I'm sure the Chinese market was very much in mind when they conceived of the X7, but I'm sure this difficulty in trade is not what BMW had planned for."
Model Highlights
Accelerates to 100 kilometers per hour (62 mph) in as little as 5.4 seconds
Middle row can have two or three seats; third row seats have armrests, cupholders and USB ports
Car features can be accessed via touchscreen, voice command and gesture control
Digital keys allow drivers to open the car and start the engine via smartphone
Panorama "Sky Lounge" roof option can be illuminated with more than 15,000 graphic patterns
Off-road driving mode can be set for gravel, sand, rocks and snow at the push of a button 
Price: not yet released, but likely more than $100,000