BMW Predicts Tough Fourth Quarter After Profits Slump
(Bloomberg) -- BMW AG sketched a cloudy start for the autos sector next year, saying its business will need to prepare for challenges ranging from trade wars to Brexit fallout and the task of meeting tightening regulation on emissions.
The world's second-biggest luxury carmaker reported third-quarter earnings that missed expectations, striking a somber tone that contrasted with rivals Mercedes-Benz owner Daimler AG and Volkswagen AG. Both have forecast a recovery during the fourth quarter from clearing vehicle inventory and maintaining sales momentum in China.
It's too early to say whether things will look up in 2019, with the company preparing for trade wars, costs from Brexit, and "regulatory challenges," Chief Financial Officer Nicolas Peter told reporters on a call. "How much of that can be passed on to consumers is a big question mark."
Return on sales from automaking, a key profit measure, nearly halved during the third quarter, hit by trade tensions, higher provisions and pricing pressure. BMW, whose Mini and Rolls-Royce brands are made in the U.K., is preparing for the U.K. leaving the European Union without an exit deal in place, Chief Executive Officer Harald Krueger said.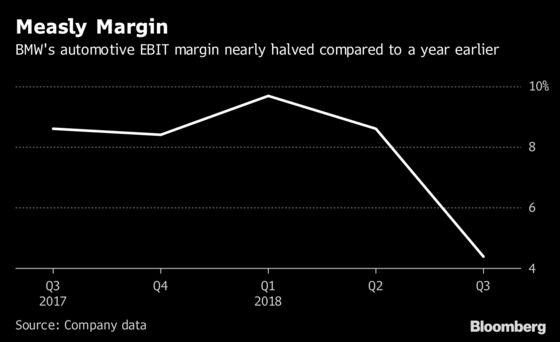 Carmakers are battling on multiple fronts. Already under pressure from record investment demands to add a suite of electric models, the past few months have seen trade tensions intensify and new emissions testing rules in the EU distort the market. While BMW was ready to meet the new regime, the likes of Volkswagen rushed to register cars before a September deadline, leading to a glut of vehicles. Faced with unexpected pricing pressure, BMW lowered profit targets in September.
Click here for Bloomberg Intelligence analysis on BMW from Michael Dean
"BMW reported a difficult quarter very similar to its German premium peers," Evercore ISI analyst Arndt Ellinghorst said in a note. Given BMW has had fewer issues meeting the new European Union emissions testing regime than its competitors, "we would have expected the company to show some relative strength -- which it hasn't."
The shares declined as much as 3 percent, the most in more than two months on an intraday basis, and were 2.2 percent lower at 75.18 euros at 12:07 p.m. in local trading, taking losses this year to 13 percent.
During the third quarter, the company also had to set aside more funds to deal with recalls of fire-prone vehicles and other warranty claims. A global campaign to exchange certain engine modules contributed to a boost in provisions by 679 million euros ($777 million).
"Along with the rest of the industry, we are increasingly confronted with adverse external factors, the negative impact of which cannot be fully offset," Peter said, adding lucrative models such as the revamped X5 sport utility vehicle and X7 full-size SUV will help boost returns next year.
BMW Third Quarter Ebit Misses Estimates
The company is hosting an analyst webcast at 2 p.m. local time. Investors will expect updates for the fourth quarter, and some early indications for 2019, as well as more on possible measures to address the tariff drag from U.S.-China shipments.