BMW Caves In to Trade, Pricing Pressures With Profit Cut
(Bloomberg) -- BMW AG cut its profit forecast, becoming the latest carmaker to succumb to pressures ranging from trade wars to scrutiny on emissions. The shares fell the most in over two years.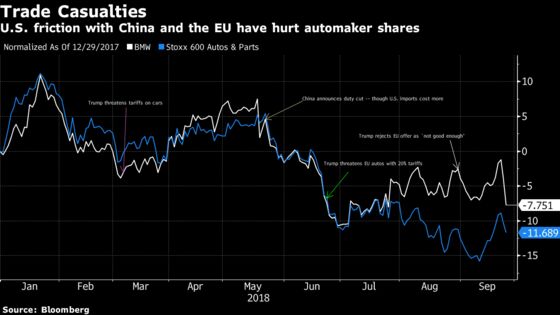 "The continuing international trade conflicts are aggravating the market situation and feeding uncertainty," BMW said. "These circumstances are distorting demand more than anticipated and leading to pricing pressure in several automotive markets."
The German carmaker is also being hurt by new European Union emissions tests, even though it got ready sooner than rivals Volkswagen AG and Daimler AG. Other companies dumped cars onto the market before the Sept. 1 changeover to tougher rules, leading to to widespread discounting.
A number of carmakers have warned of lower profits in recent months, blaming growing U.S.-China trade tensions. The conflict is adding to unprecedented pressure on an industry grappling with the shift to electric cars. BMW is among the most-affected from higher tariffs, as it ships popular sport utility models like the X5 from its U.S. plant in Spartanburg to China.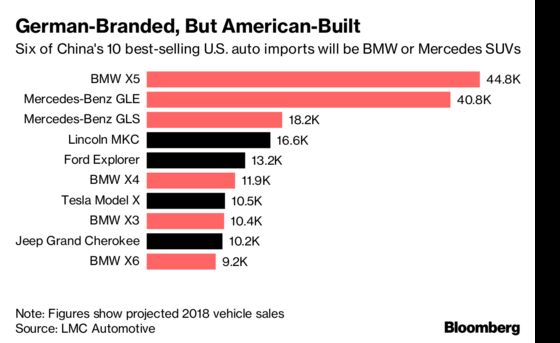 Its shares dropped as much as 5.9 percent in Frankfurt, dragging down German rivals Daimler and Volkswagen. BMW was down 3.2 percent to 80.84 euros at 2:04 p.m. in Frankfurt.
BMW also said it won't meet its profit margin goal on return on sales from automaking, crashing out of a targeted range of 8 percent to 10 percent for the first time since 2010. The carmaker now forecasts a 7 percent margin.
"Too many things came together this year, but we can assume this profit warning will be a one-time thing," Sven Diermeier, a Frankfurt-based analyst at Independent Research GmbH said. "The third quarter must have been especially bad."
As BMW grapples with the fallout from intensifying trade tensions, the Trump administration ratcheted up the pressure further, announcing Monday tariffs on $200 billion in Chinese goods. China responded with duties of its own on $60 billion in U.S. products. The Chinese government also called off planned talks with U.S. officials.
2018 pretax profit expected to show "moderate" decline vs previous"level"
BMW to cut volume planning to respond to pricing pressure
Automaking EBIT margin 7% vs previous 8%-10%
Cost, efficiency measures to be intensified