BMO's Barclay Sees Capital Markets' 'Robust Phase' Near an End
(Bloomberg) -- The head of Bank of Montreal's investment-banking and markets business said capital markets are at the "end of the robust phase" that powered them through the pandemic and are shifting toward a more uncertain future.
Capital markets have been in a boom period marked by heightened merger activity, strong equity markets, low interest rates and subdued fears among investors, BMO Capital Markets Chief Executive Officer Dan Barclay said in an interview Monday at the Milken Institute Global Conference in Beverly Hills, California. The conversations among market participants now are shifting to the risks ahead, he said.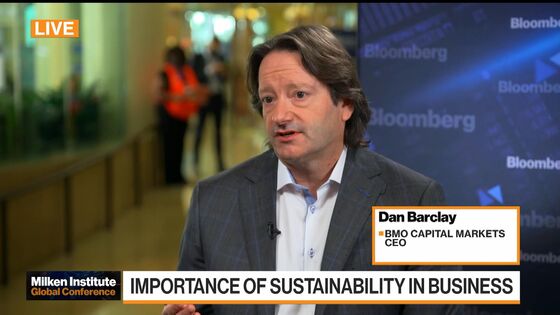 "We're in a transition period," Barclay said in an interview with Bloomberg Television. "It feels, over the last couple of weeks, that people are starting to reevaluate whether the future is simple and clean, or if we've actually got some headwinds coming our way, whether that's inflation, whether that's commodity prices, whether it's the pace of the economic recovery."
Barclay said inflation -- whether it will be transitory or persistent -- is the biggest unknown. Among other headwinds, "supply chain issues should in theory get fixed, but they don't feel fixed today." And the transition to renewable resources is in part responsible for some of the recent disruptions in the energy market, Barclay said, likening the global transformation intended to combat climate change to the upheaval of the industrial revolution.
"With that amount of change, you're going to have periods when it's in balance and periods where it gets out of balance," Barclay said. "The energy question in the next few months is going to be one of those that's out of balance."