Trump's Blue-Collar Jobs Boom May Not Last
(Bloomberg Opinion) -- The "blue-collar jobs boom" continues. That is, employment gains in goods-producing industries outpaced those in service-providing sectors yet again in September on a percentage basis, according to today's jobs report from the Bureau of Labor Statistics. Year over year, goods-producing jobs are up 3.1 percent while service-providing jobs are up just 1.5 percent. This has decidedly not been the norm over the past few decades.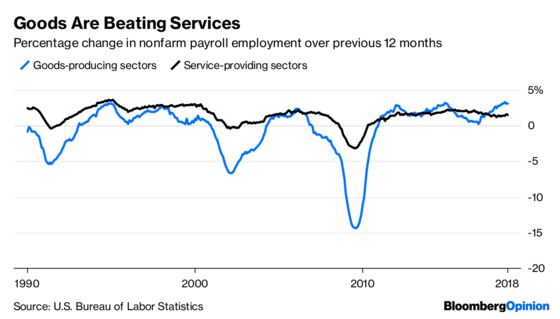 Goods-producing jobs and blue-collar jobs aren't exactly the same thing. The former tally includes executives and other non-production workers in the goods-producing sectors of manufacturing, construction, mining and logging, while there are lots of blue-collar jobs in other industries such as transportation. The BLS does also report employment in "production, transportation and material moving occupations," and that's up a lot lately, too, but those numbers are noisier and don't go back as far, so I'll use the goods-producing jobs numbers here. Their sharp decline as a share of overall employment since the 1940s has been one of the defining economic developments of our age.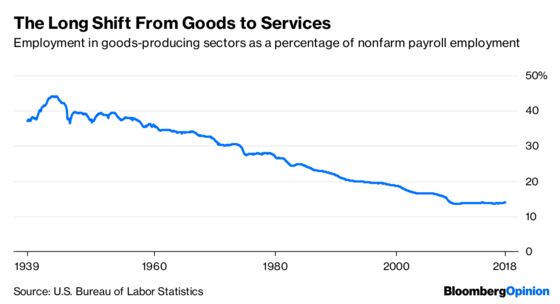 Still, as you can see from the second chart, the decline has been on hold since 2010. Meanwhile, it's apparent from the first chart that after flagging in 2015 and 2016, the goods-producing jobs recovery is back on track. And American voters elected a guy in 2016 who made blue-collar jobs a centerpiece of his presidential campaign. So is President Donald Trump responsible for this blue-collar jobs boom?
Well, he definitely has had exquisite timing. Outperformance by the goods-producing sectors was already a characteristic of this economic expansion when, as Neil Irwin described in the New York Times last week, a "mini-recession" focused on the energy industry and heavy manufacturing put the blue-collar recovery on hold in 2015 and 2016. A lot of the gains of the past two years can be accounted for as the bounce-back from this.
Still, it's a bounce-back that the president has been egging on, in some cases with actual policy changes. The two industries that have been the biggest focus of his attention, coal mining and primary metals manufacturing, have both seen employment upswings since Trump took office, although the gains have been quite small: about 2,000 jobs since January 2017 in the case of coal mining and 14,000 in primary metals, compared with an overall increase in goods-producing employment of 896,000. Tax cuts and government-spending increases have given the economy a broader boost, and the president surely deserves some credit for recent gains in consumer and business sentiment. A simple rule: The longer this goes on, the more credit he and his administration probably deserve.
What interests me more, though, is whether the long decline in goods production's share of employment in the U.S. really has ended. Is the blue-collar job back, in other words?
There are some positive signs: The U.S. became the world's No. 1 producer of oil and natural gas in 2009, and has remained so ever since. Manufacturing in the U.S. no longer comes at a big cost disadvantage relative to China and other lower-wage countries. But these shifts won't necessarily translate into job gains over time. Employment in oil and gas extraction, while up from the lows of 2016, is still well below the peaks of 2014 even though production is higher. And while the long, long expansion has manufacturers adding production jobs now, "I don't know of any who want to expand employment over the long term," economist Michael Hicks of the Center for Business and Economics Research at Ball State University in Indiana told me last month.
Indiana is the most manufacturing-intensive state in the U.S., both in terms of employment and share of gross domestic product, and is currently enjoying its longest uninterrupted run of manufacturing job gains on record. Hicks is a leading student of the manufacturing economy in Indiana and the rest of the country, and I paid him a visit last month thinking these good times for the sector might have filled him with optimism. But no, Hicks thinks that manufacturing workers are mainly benefiting from the long duration of the expansion — and that as soon as it's over, even if the downturn is modest, employers in the sector will again be looking for every possible way to cut costs. "A 1990-91 style recession could clobber manufacturing employment," he said.
Another thing to keep in mind is that goods-producing jobs have become such a small share of overall employment that even when they grow at a faster percentage rate than services employment, there are still far more actual services jobs being created.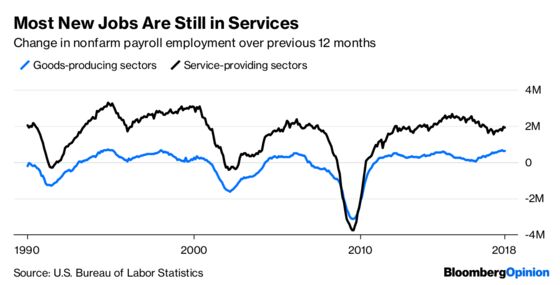 The blue-collar job may have stopped going away for a while. It's probably too early to say that it's really back, though.
This column does not necessarily reflect the opinion of the editorial board or Bloomberg LP and its owners.
Justin Fox is a Bloomberg Opinion columnist covering business. He was the editorial director of Harvard Business Review and wrote for Time, Fortune and American Banker. He is the author of "The Myth of the Rational Market."