Bloomberg Stumps in California as Rivals Battle in Iowa Caucuses
(Bloomberg) -- The 2020 Democratic presidential race kicks off Monday in Iowa, but Democratic presidential candidate Michael Bloomberg was half a country away campaigning in California, a make-or-break state for his unconventional run.
"I'm not running against the other Democratic candidates. I'm running against Donald Trump, and we're going to beat him," Bloomberg said in a brief speech at an early-morning event in Sacramento, his first of three planned stops Monday in the Golden State.
Bloomberg is skipping Iowa and the other three contests in February and focusing on California and the other 13 states voting March 3 on so-called Super Tuesday and beyond. Monday was the start of early voting in California.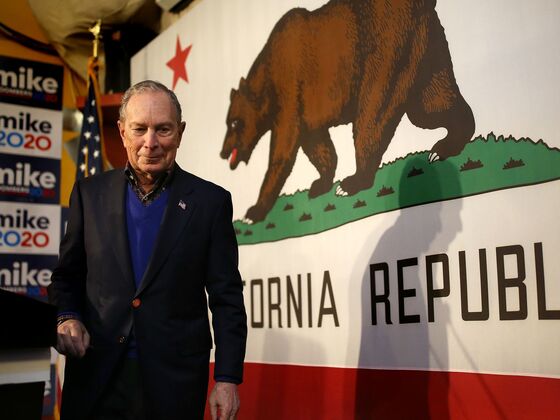 The former New York mayor was campaigning in the state capital, Sacramento; Fresno, the heart of the agriculture industry in central California, and Compton, a predominantly minority city in Los Angeles County.
Compton Mayor Aja Brown and three members of city council planned to endorse him. Bloomberg was introduced at his Sacramento event by California Treasurer Fiona Ma.
On Tuesday, he has events in Michigan, where Democratic Governor Gretchen Whitmer is giving a response to President Donald Trump's State of the Union address on Tuesday, and in Pennsylvania – two states key to Trump's victory in 2016 with primaries later in the campaign.
Bloomberg has about 220 staffers and 11 offices in California and expects to reach about 300 staff in 20 offices, said Dan Kanninen, the campaign's states director.

While only about 4% of pledged delegates needed for the party's nomination are available in the initial four contests, some 62% of delegates will be decided by the end of March, according to the Democratic National Committee.

California and its 415 pledged delegates is the top prize among the Super Tuesday states, awarding 10% of all delegates to the nominating Democratic National Committee. A candidate needs to get at least 15% of the vote to be awarded delegates.
Bloomberg has risen to fourth place in the RealClearPolitics average of national polls behind Joe Biden, Bernie Sanders and Elizabeth Warren.
Trump has also started to attack Bloomberg, calling him "Mini Mike" on Twitter and saying the billionaire is "just wasting his money." That's allowed Bloomberg to say Trump is worried the former New York mayor can beat him and "he knows that I'm the one that he can't push around."
Speaking at Fresno City College, Bloomberg said that Trump insulted him and other Democratic candidates on Sunday but that as a New Yorker, he's not hurt by it. But Trump has hurt others, he said.
"Donald Trump has tried to bully a lot of people, and he's done it for three years now," Bloomberg said. "But he's not going to bully me, and I won't let him bully you, either.''
But Bloomberg is still in the single digits in most polls, despite spending more than $300 million on advertising since he announced his candidacy Nov. 24, according to Advertising Analytics, which tracks political ads.

Bloomberg has spent $35 million on ads in California, yet had just 6% support among likely California voters in a poll released Jan. 28 by the Institute of Governmental Studies at the University of California Berkeley. His support had increased from 2% in a November poll just as he entered the race, with most of the new backing coming from older voters and moderates at Biden's expense, according to the survey.

Still, Bloomberg trailed Sanders, who led the field with 26% in the poll, followed by Warren at 20%, Biden at 15% and Pete Buttigieg at 7%.
(Bloomberg is the founder and majority owner of Bloomberg, LP, the parent company of Bloomberg News.)
Bill McPoil, 70, a retired Sacramento police officer and labor negotiator and Democrat, said he's supporting Bloomberg as the best moderate choice in the field to beat Trump but isn't sure yet how the strategy of skipping the initial races will work.
"I'm hoping for the best," McPoil said at the Sacramento stop. "Starting in a big state like California can help."
If Biden emerges from the first four contests with momentum toward the nomination, Bloomberg's path would be narrowed, said Bob Shrum, longtime Democratic strategist. But if Biden stumbles and there's not clear front-runner, or progressives Sanders and Warren are dominating, that opens a path for Bloomberg, he said.

"He's playing a longer game in which his fate is not in his own hands," Shrum said.