Bleeding in Tech May Spur Another Rush to Defense: Taking Stock
(Bloomberg) -- S&P 500 futures are down a few handles after a relatively tight session on Monday, as the cash index continues to have trouble with the 2,800 resistance level.
The QQQs are seeing a much sharper reaction, though, sliding nearly 1% on the back of Netflix's disappointing subs figures -- shares are off ~13% pre-market and back below its 50-day moving average of $369.61, a level it has held since the beginning of the year.
The Netflix weakness is spilling over to every other member of the FAANG family (Amazon, which closed at a record, got hit the worst) and practically every other high-flier in the tech world, from the streaming-exposed names like Spotify and Roku to the social media stocks like Twitter to the uber-volatile Chinese ADRs that recently went public, such as iQIYI, HUYA, and Bilibili.
Citi had a prescient call on Netflix prior to Monday's open, noting that some third-party data providers indicated that U.S. subs growth may have trailed expectations, but they weren't the only one fanning caution ahead of the print. Others predicted that $500 would be the next stop.
The interesting part is that the Street isn't chastising Netflix this morning for the miss, as the stock has only received one downgrade so far (Deutsche Bank) against two upgrades (Stifel and BMO) -- note there were at least 26 analysts who rated the stock a buy going into the results. In fact, many of the notes read as though analysts see this is nothing more than a blip with the long-term bull view intact.
The first thing we'll be watching for is to see how the rout in tech plays out, as you can be assured that many tech bears are coming out of hibernation to call Netflix's reaction as the top for a frothy-looking sector -- granted these may be the same contrarians who've seen their portfolios bleed due to poorly-timed shorts that have repeatedly gotten squeezed over the past few years.
Or maybe its a bit of a breather for a stock that was up 109% coming into the numbers (and remains up ~84% YTD based on pre-market trading). People are flipping out about a 14% drop, but this move is practically in line with the average post-earnings move for the company on a historical basis, and is just a bit more pronounced than the ~9% move that options were pricing in.
That said, today's weakness in some of the more crowded tech stocks dovetails nicely with the shift in allocations over the past month, where defensive sectors like utilities, REITs and consumer staples outperformed over the big winners of the bull market like tech, financials, and consumer discretionary. It also fits in nicely with general market jitters, the billions of dollars pulled out of U.S. funds over the past month and a half (BofAML says global equity allocation is at the lowest level since November 2016), and several cautious calls from known strategists, something that was seemingly non-existent until recent, like Morgan Stanley's Michael Wilson (downgraded tech to underweight early last week and upgraded staples & telecom services) and RBC's Lori Calvasina (upgraded large-cap health care and REITs last week in a move to get "a little more domestic/defensive").
But if the first camp of investors is right and tech starts to fade heavily over the near- to medium-term, expect the rotation into defensive sectors to accelerate, which likely won't bode well for a market that has been propped up by tech by so much and for so long at this point.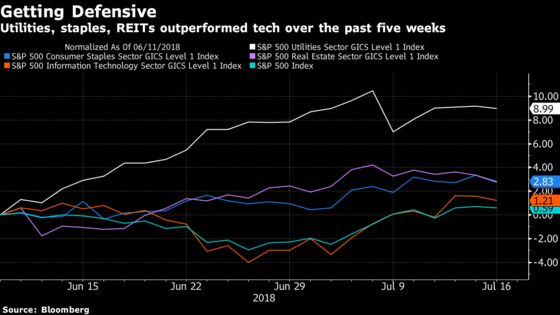 What Else Besides Netflix?
Banks had a massive bounceback after good results from Bank of America (or was it Deutsche Bank's >7% squeeze that was the bigger culprit?). But the gains in the XLF and the BKX weren't as big as the ones seen exactly one week ago, which turned out to be a fake breakout for a group that has been under a good amount of pressure in the weeks leading up to the earnings deluge. We'll see if Goldman's report today or Morgan Stanley's tomorrow can keep the space afloat.
Transports could be volatile once CSX kicks off earnings for the rails tonight. Note the industrials complex got a scare early on in Monday's session after a bewildering ~10% reversal in J.B. Hunt shares off the open. The company reported its largest earnings upside surprise in over three years, but it was the unchanged guidance that spooked the market and sparked concerns about a peak in the cycle.
It appears as though investors in the space haven't forgotten the "high water mark" comments out of Caterpillar last quarter that weighed on sentiment (see Goldman's call on the machinery space below for more). And it also looks likely that the market will be paying much closer attention to guidance in the back half of the year (how conservative will companies get and what will they blame?) versus quarterly results.
Elsewhere, watch the healthcare sector on early weakness in JNJ after the company slashed its sales view and with managed care giant UnitedHealth ticking lower despite the beat.
Goldman machinery analyst Jerry Revich talks about rising cyclical risk in a note removing buy-rated Caterpillar and Deere from its Conviction List and downgrading both MTW and GNRC to sell.. Jefferies says machinery multiples have contracted "to the point we are now near the prior recessionary levels" in relation to the S&P 500, though sees less opportunity for a strong beat and raise for CAT this quarter..
Goldman also downgraded GT to a sell (it's only equivalent sell out of 10 analysts covering the name, according to Bloomberg data) as a tough backdrop for tires will pressure guidance through 2018 and hinder the company's ability to generate strong FCF.. and the bank raised its view on the retail REIT sector and upgraded MAC to boot..
Evercore ISI downgrades INTC to an in-line and slashes price targets on some semi cap equipment names in a broader note calling for the chip stocks to finish higher at the end of the year than where they are today, with best ideas being NVDA, MU, MRVL, and ADI..
Tobacco names may be weak after JPMorgan said it expects weak earnings while Morgan Stanley cut estimates on overweight-rated Philip Morris (reports Thursday), citing softer iQOS shipments and adverse FX moves..
Keybanc lifts its price target on Roku to a Street-high $54 after checks suggest further acceleration in customer growth..
Tick-by-Tick Guide to Today's Actionable Events
Today -- Amazon "Prime Day" continues; Target holds one-day sale
7:00am -- NSM earnings
7:30am -- GS earnings
8:00am -- PLD earnings
8:30am -- PGR earnings (roughly), JNJ earnings call
8:30am -- SYRS business update call
8:45am -- SCHW earnings, UNH earnings call
9:15am -- Industrial Production
9:30am -- GS earnings call
10:00am -- NAHB Housing Market Index
10:00am -- Fed Chair Powell delivers semiannual report before Senate panel
10:00am -- FB, GOOGL, TWTR to appear at house hearing on content filtering
10:00am -- Senate committee hearing on reducing health-care costs
10:00am -- DLPH hosts software and systems teach-in for investors
11:30am -- Treasury auction: $26b 52-week bills
4:00pm -- TIC Flows
4:00pm -- IBKR earnings
4:02pm -- CSX earnings
4:05pm -- MLNX earnings
4:15pm -- UAL, FNF earnings
4:30pm -- API oil inventories
4:30pm -- CSX earnings call
6:30pm -- BHP June sales
8:10pm -- ADTN earnings (roughly)
Tonight -- IPOs to price: Coastal Financial (CCB), Crinetics (CRNX)