Blackstone Spars With Songwriters, Streamers Over Music Payments
(Bloomberg) -- Music industry lobbyists, including some backed by the private equity giant Blackstone Group LP, are battling over a bill to overhaul music copyrights and could scuttle a measure that seemed certain to pass weeks ago.
The Music Modernization Act would reform the way streaming services like Spotify pay songwriters. It was poised to clear the U.S. Senate after passing in the House of Representatives in April with bipartisan support and buy-in from often-warring interests in the digital music world, such as Apple Inc. and composers.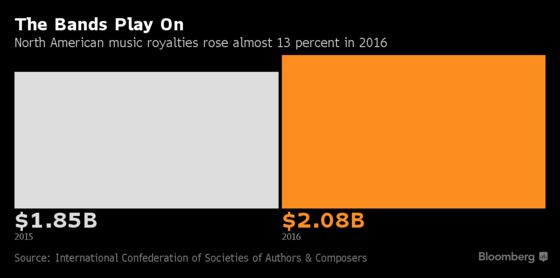 But Blackstone, through its ownership of two music companies, is pushing a proposal that would strip some powers from a proposed board that would administer rights, potentially undermining the measure, according to backers. The firm owns SESAC Holdings and the Harry Fox Agency Inc., two groups that disburse royalties and may be threatened by the new law. Various U.S. industry groups pay out more than $2 billion a year to songwriters.
"We are concerned that a lack of competition might damage not only our business, but songwriters too," SESAC said in an emailed statement. "We've suggested a simple amendment to improve competition so we can continue to ensure that all songwriter and publisher royalties continue to grow."
The Music Modernization Act is backed by two camps that are often at odds -- tech giants such as Apple Inc. and songwriters. Through the board, the companies would create a database of songs to simplify royalty payments for songwriters and ensure they get paid.
Songwriting credits are often split among artists and representatives, and the payment of royalties is a source of frequent litigation. The establishment of a board was key to uniting the groups and securing lawmaker support in the House.
"In final moments of the MMA's journey, just as the bill approaches its final hurdle, SESAC, Harry Fox, and parent company, the Blackstone Group, have chosen to lob an amendment into this finely tuned compromise bill that, if we do not fight back, will surely blow up the entire thing,'' Kay Hanley, co-executive director of the Songwriters of North America, wrote on Tuesday. The organization is an advocacy group pushing for higher streaming royalties.
Songwriter groups say Blackstone is pressing Senator Ted Cruz, a Texas Republican, who proposed and eventually withdrew an amendment weakening the board. The National Music Publishing Association and other industry groups have met with Cruz in search of a compromise.
'Unprecedented Collaboration'
"The bill is the product of unprecedented collaboration among music stakeholders and passed unanimously through the House Judiciary Committee, the full House, and the Senate Judiciary Committee,'' Broadcast Music Inc., a nonprofit that represents songwriters, said in a statement.
Cruz and other Senate Republicans have argued the board would stifle competition, and those pushing changes say they are seeking a modest revision that leaves much of the bill as is, including the board's responsibilities for the database and a limit on liability for digital streamers. Cruz didn't respond to a request for comment.
SESAC has taken part in discussions over the Music Modernization Act for months, according to two people with knowledge of the matter. It began taking action when it became clear its concerns were being ignored, said one of the people, who asked not to be identified because the discussions are private. The bill was introduced in the House in December 2017 after months of negotiation.
The private equity firm gave $180,000 during the second quarter to the Republican-allied Harbinger Strategies LLC that worked on issues including the bill. Its lobbyists include a former top aide to onetime Senate Majority Leader Trent Lott.
Blackstone is a significant contributor in Washington. The $5 million that Chief Executive Officer Stephen Schwarzman gave to the Senate Leadership Fund, a super political action committee that supports Republican candidates, was among June's biggest donations. He has also donated to Cruz and Senate Majority Leader Mitch McConnell, according to Federal Election Commission records.
"Blackstone strongly supports music modernization, and we are confident legislation will be signed into law this year as long as all parties continue working in the same cooperative spirit that has characterized the process so far," said Paula Chirhart, a Blackstone spokeswoman. "The new proposal would not have a monetary impact on writers or publishers in the marketplace, or their position with the collective."