Blackstone's Profit Beats Expections as Firm Gathers More Assets
(Bloomberg) -- Billionaire Steve Schwarzman's investing machine keeps gobbling up money. Blackstone Group LP brought in $24.1 billion in new capital in the third quarter, helping the largest alternative asset manager beat profit expectations, according to its earnings report Thursday.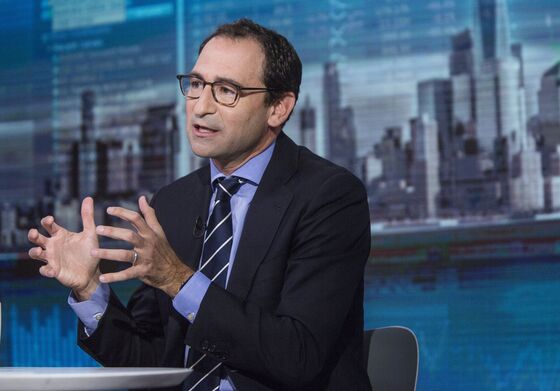 As fundraising in the private equity industry slows this year, Blackstone bucked that trend. Its inflows in the quarter topped the year-ago period, as the firm strives to cross the half-trillion in assets mark by early next year. "If you had a sharp correction in the market, you could see a bit of a slowdown in fundraising," Jon Gray, Blackstone's president, said Thursday on a call with investors.
Buyout shops have been storing dry powder, or undeployed capital, rather than overpaying for deals in a bull market, which hurts returns. Blackstone's cash pile grew in the quarter to $95 billion.
Private equity, the firm's bedrock enterprise, was the biggest contributor to economic income, outpacing all of its other businesses. The firm's public and private portfolio appreciated thanks in part to the S&P 500's strongest quarterly gain in about five years.
Gray said the decline in the Chinese stock market presents a buying opportunity. Early this year the firm said it would accelerate its Asia-Pacific investments after raising a combined $9.4 billion from two funds dedicated to the region.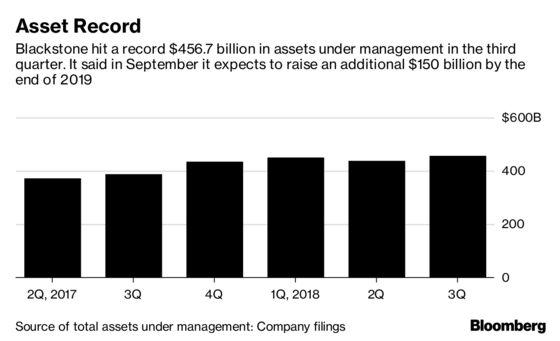 Net inflows were $24.1 billion compared with $19.7 billion in the year-ago period. The private equity group raised the most capital, at $6.5 billion.
Assets under management grew 18 percent to a record $456.7 billion.
Dry powder grew from $88 billion in the second quarter. The firm expects it to exceed $100 billion in coming quarters.
Economic net income, which reflects both realized and unrealized investment gains, rose 11 percent to $911 million, or 76 cents a share, compared with $822.1 million, or 69 cents, in the year-ago quarter. The performance beat expectations of 75 cents from 13 analysts surveyed by Bloomberg.
Shares of New York-based Blackstone were little changed in New York trading. The shares gained about 7.8 percent in the past year, lagging behind the gains by KKR & Co. and Ares Management LP, both of which have converted into corporations.