Steve Schwarzman Holds On as Tony James's Exit Shapes Blackstone Succession
(Bloomberg) -- Over two decades, Tony James and Steve Schwarzman became a duo to be reckoned with in the dealmaking world, building Blackstone Inc. into a dominant force in private equity.
Now, there is only Schwarzman left.
The news that James, 70, will retire as executive vice chairman is the latest sign of a changing of the guard at Wall Street's storied leveraged buyout shops. It also leaves Schwarzman as the lone holdout among a generation of billionaire founders who have recently passed the torch to a younger set of leaders.
Schwarzman, 74, praised his colleague's handling of the changeover -- while saying nothing about his plans.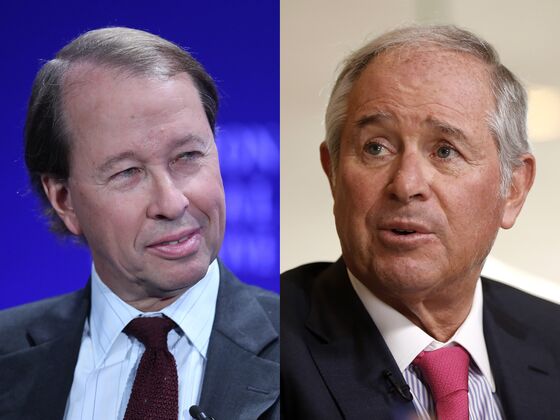 James "gave us the gift of time, by beginning the conversation around succession well before his intended exit," Schwarzman said in an internal memo obtained by Bloomberg. "This allowed us to identify, develop, and train a terrific successor in Jon Gray," he said.  
Succession has been in the works for years at Blackstone, Gray said at a conference last month, adding that James trained him and involved him in key firm matters. Gray took over for James as Blackstone's president and chief operating officer in 2018.
Yet when asked about his boss's plans, Gray said: "Steve is fully engaged, he's pushing everybody, he wants us to be out there doing the best job possible."
Private equity firms have been grappling with succession as their aging founders have, begrudgingly and quite slowly, given up the reins. This year, has been a watershed for handovers.
At KKR & Co., billionaire co-founders Henry Kravis and George Roberts stepped down as co-CEOs in October after almost half a century in the final step in a succession plan initiated four years ago. Even then, the two said they would remain involved at the firm.
Earlier this year, at Apollo Global Management Inc., it took a headline-making scandal to propel a change at the top. Co-founder Leon Black stepped down after a months-long controversy over ties to Jeffrey Epstein made his position untenable. 
Carlyle Group Inc. co-founders David Rubenstein and Bill Conway ceded their roles as co-CEOs to Glenn Youngkin and Kewsong Lee in 2018. Youngkin ultimately exited, leaving Lee in sole charge. 
At Blackstone, in 2018, James took his first steps toward exiting with the turnover of his posts to Gray, who's considered an heir apparent to Schwarzman. In May, James also sold about $251 million of stock, his largest annual disposal since at least 2013.
James joined the firm in 2002 and oversaw its initial public offering and acquisitions including GSO Capital Partners, which became the company's global credit arm.
"These efforts and many others helped build Blackstone into the leading organization it is today," Schwarzman said in the memo. Blackstone has $731 billion in assets and is the world's largest alternative asset manager.
James is worth about $6.1 billion, according to the Bloomberg Billionaires Index ranking. Most of his fortune is derived from his Blackstone stake, but he also has a family office, Jefferson River Capital, which invests in real estate and private equity deals.
Unlike Schwarzman, James is a significant political donor to Democrats and a supporter of President Joe Biden. James also has increased his philanthropic efforts. Along with his wife, Amabel, he's provided funds to create a center for artificial intelligence and human health at Mount Sinai's medical school in New York.
Prior to joining Blackstone in 2002, James had spent most of his career at Donaldson, Lufkin & Jenrette, which was acquired by Credit Suisse First Boston.