Blackstone's GSO Posts Loss in Distressed Debt as Sector Sours
(Bloomberg) -- GSO Capital Partners LP reported its largest loss in at least two years from its distressed-debt investments, dragged down by the scarce supply of new targets and double-digit declines at some of its biggest funds that invest in troubled companies.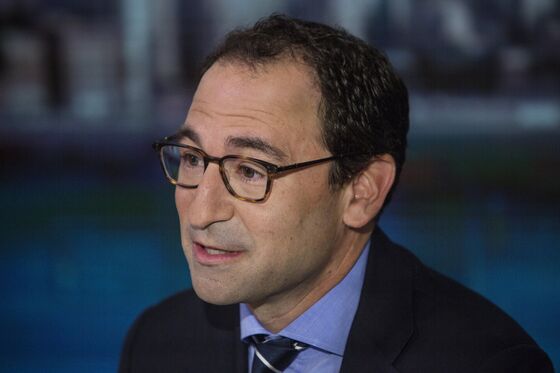 The credit arm of Blackstone Group LP reported a negative 5.9 percent net return from distressed-debt strategies for the fourth quarter, citing drops in public equity stakes, turmoil in the energy industry and turbulence in overall credit markets. That compares with a 2.6 percent gain in the same quarter a year earlier and 0.1 percent in 2018's third quarter, according to Blackstone's earnings presentation. The full year's net return from troubled issuers swung to a 3.4 percent loss from a 4.9 percent gain in 2017.
"We still feel good about our distressed portfolio," Chief Operating Officer Jonathan Gray said during a conference call with investors. "As markets calm here a bit, you'll see better performance."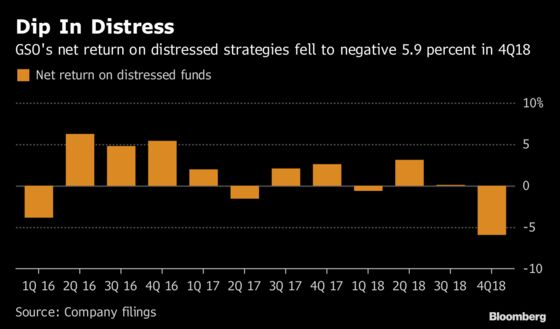 Composite gross returns before deductions were a negative 7.3 percent for the quarter ended Dec. 31, compared with a 3.4 percent gain in 2017's fourth quarter and 0.6 percent in 2018's third quarter. The full-year gross return was minus 3.2 percent, compared with a 7.7 percent increase a year earlier.
Co-led by Bennett Goodman, GSO has held back on distressed debt in recent quarters, with fewer companies in bad enough shape to merit an investment. By contrast, GSO's performing credit business posted net returns of negative 0.6 percent for the fourth quarter and a 5.9 percent gain for the year.
Two of the distressed-debt funds managed by GSO suffered losses in 2018 after oil prices plunged, Bloomberg reported in January. Alongside the declines, the unit has seen significant changes. Goodman is the only one of the three co-founders remaining after Tripp Smith and Doug Ostrover decided to leave. The head of global trading, Zachary Crump, also left to pursue a similar role at Herbert Wagner's hedge fund Finepoint Capital LP.
GSO is watched closely because it's one of the largest and most active distressed-debt investors, but returns in the field can vary widely from one quarter to the next. Results depend in part on when troubled issuers decide to take corrective action, when deals are completed and sometimes on bankruptcy court rulings. Some other highlights from the presentation:
The firm's supply of unused capital available to invest in credits of all types dipped to $24.5 billion from about $25 billion in the third quarter.
GSO slipped to third-largest among Blackstone's businesses measured by assets, behind the real estate and private equity units.
The credit unit managed about $127.5 billion at year-end, down from $138.1 billion a year earlier.