Blackstone's Jon Gray Mocks His Nice-Guy Image in Holiday Party Video
(Bloomberg) -- Jon Gray, Blackstone Group LP's president, is known as a nice guy who doesn't lose his temper.
But Thursday, the investment firm's employees received a video showing Gray yelling at his assistant over the cancellation of Blackstone's holiday party, fretting he'll be viewed as a Grinch in his first year on the job.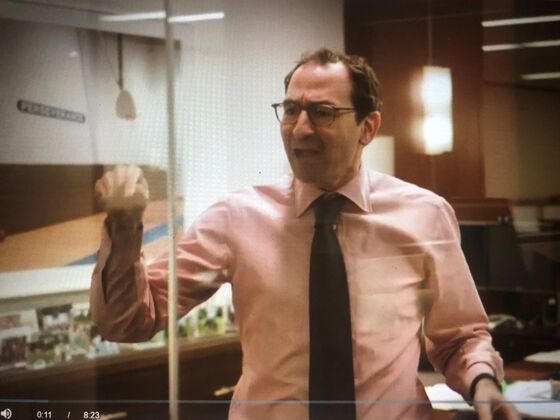 The premise is real: Blackstone did cancel its holiday party this year. Christine Anderson, a spokeswoman, said the firm has grown too big to find a venue that can reasonably accommodate its New York employees, who number about 1,000.
Gray going ballistic on camera though is fake news. It's a comic premise demonstrating Gray's willingness to mock himself and ham it up for the sake of a spreading a few laughs and some holiday cheer in the office.
The video was sent to all 2,500 employees globally in an email from Chief Executive Officer Steve Schwarzman, a copy of which was obtained by Bloomberg News.
It's filmed in the style of the "The Office," the comedy that ran on NBC, complete with its theme music and a Steve Carell look alike. It cuts between Gray, furrowing his brow and seeking counsel from the chief legal officer and chief financial officer, and interviews with employees.
"I think Jon canceled it to preserve his man-of-the-people image," says Kathleen McCarthy, co-head of the real estate group, playing on Gray's low-key lifestyle.
After weighing the advice, Gray makes a decision. "Every great leader has a moment when they're facing the forces of evil," he says. "So what do I do here with this crisis around the holiday party? Turn it into eight holiday parties."
There's a happy ending, of course. "Typical, only Jon can be the enemy of fun and still be loved," Joe Baratta, global head of private equity, deadpans. "Uh, did I say that out loud? Can we redo this?"
David Blitzer, global head of tactical opportunities, gets to be the fun one, filmed walking down a hallway with a bar cart.
"Everybody's welcome to come down to 27, we know how to get into the holiday spirit."
Parties that Blackstone throws for each of its eight divisions after the firmwide cocktail party will still take place Thursday evening.